A full body suit can take thirty years to finish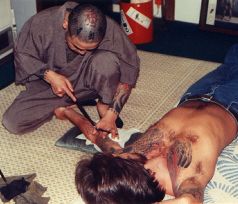 Thomas Lockhart owes much to the man many consider to be the greatest living master of the Japanese hand-tapped tattoo, Horiyoshi III. While the Japanese haven't yet emulated Americans in their rush to be tattooed (tattoos are still largely considered the mark of the yakuza -- the Japanese Mafia), the few Japanese masters that practice tattoo art are in a class of their own. For that reason, Lockhart returned again and again to the master for the body tattoo he wears with pride.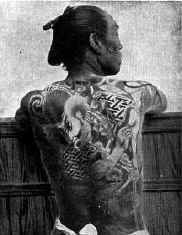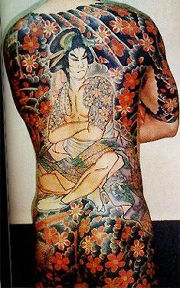 No one comes to Horiyoshi for superficial reasons. For one thing, a full body suit can take thirty years to finish and cost $50,000. Traditional myths are the stuff of the Japanese tattoo suit. Horiyoshi's clients likely want to bond with the culture and with the spirit of the design. "Horiyoshi is the medium," says Lockhart. "Horiyoshi combines the design with the tattooee to create the mythic power."
Our special access to what remains largely a secret and hidden world in Japan, allows us to look over the master's shoulder as he works on an actual yakuza. At 2:00 a.m. we'll follow Lockhart as he explores the Ginza to find out what commercial tattooing has become in Japan today.
Click here for more about Thomas's early meetings with Horiyoshi III
---
[ Home ] [ CELEB TATTOOS ] [ TATTOO TRIP MAP ] [ JOURNEY STARTS ] [ A JOURNEY ENDS ] [ PHOTO GALLERIES ] [ TRIBAL DESIGNS ] [ TATTOO QUIZ ] [ COOL LINKS ] [ LINK TO US ] [ TATTOO BOOKS ] [ BOOK REVIEWS ] [ PRESS ROOM ] [ AWARDS ] [ ASK US! ] [ TATTOO TRIBE ] [ CONTACT INFO ]
Copyright © 1999- www.vanishingtattoo.com All rights reserved.