For the Iban, tattoos signified the taking of their trophies
The only way into the jungles of West Borneo is by increasingly smaller boats up increasingly narrower rivers. The deeper we venture, the more tattoos we see. We see young women with tattoos-in-progress. It would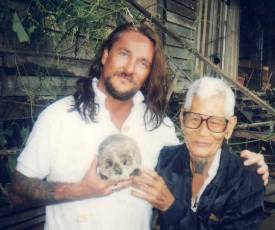 identify friend from foe in battle. And we're told that, up here, tattoos ward off harm and disease. Closing in what seems like the heart of darkness, the argument for tattoos as protection gains some sudden support.

He ate the brains...
Lockhart finds the village he's looking for and the old artist he's heard about. He's the most respected elder in the community and Lockhart quickly finds out why. Proudly displayed among the old man's tattoo paraphernalia is the head of a Japanese soldier. There's no reason not to believe the old man when he says he ate the brains.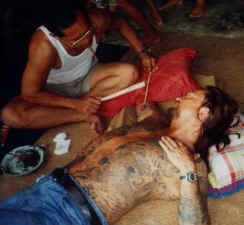 Local tattoo techniques, we learn, are more Samoan than Japanese. Pins are affixed perpendicular to the end of a stick and rested on the skin, while a little mallet drives the needles in at high speed. But the tattooer clearly has limited experience. And those needles don't look too sharp. Tom's not sure he can get an authentic tattoo in this most authentic of locations.
Check these Borneo filming trip photos!
Read the Article from our Technical Advisor Lars Krutak -- In the Realm of Spirits: Traditional Dayak Tattoo in Borneo
Click here for more amazing historical photos and background info
on the tattooed headhunting tribes of Borneo!
---
[ Home ] [ CELEB TATTOOS ] [ TATTOO TRIP MAP ] [ JOURNEY STARTS ] [ A JOURNEY ENDS ] [ PHOTO GALLERIES ] [ TRIBAL DESIGNS ] [ TATTOO QUIZ ] [ COOL LINKS ] [ LINK TO US ] [ TATTOO BOOKS ] [ BOOK REVIEWS ] [ PRESS ROOM ] [ AWARDS ] [ ASK US! ] [ TATTOO TRIBE ] [ CONTACT INFO ]
Copyright © 1999- www.vanishingtattoo.com All rights reserved.