Monsters dominate his chest and crawl over...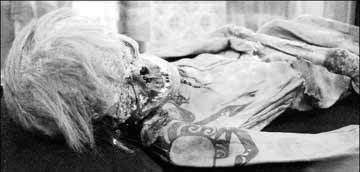 Examining the remains of 2500 year old Pazyryk mummies, that's what we're doing here in Northern Russia. Embalmed in a frozen burial mound, an Iron Age chieftain still wears exotic tattoos. The powerfully built horseman died when he was 50. Though his body is somewhat deteriorated, an elaborate series of tattoos are clearly visible. Interlocking designs represent rams, deer, and a variety of fantastic beasts. Monsters dominate his chest and crawl over his right foot, while a fish reaches from his right foot to his knee. Were these totems for his personal protection or badges of his noble birth? Modern day Siberian tribesmen, Lockhart discovers, still ink designs down their spine to relieve back pain.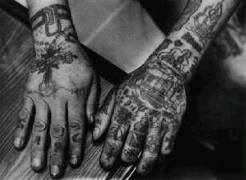 Prisoners secret language
Lockhart wants to get inside a Russian prison to see and hear about a unique tradition of illegal tattoos. Today, prison tattoos constitute a secret language, but in wartime gulags, tattoos were a form of protest. The indelible likeness of Stalin screwing a pig? On your chest? With ink made of burnt shoe leather and urine? In the gulag, there aren't too many ways to stand up and be counted.
For more on Scythian, Eurasian art check out this Russian site here!
---
[ Home ] [ CELEB TATTOOS ] [ TATTOO TRIP MAP ] [ JOURNEY STARTS ] [ A JOURNEY ENDS ] [ PHOTO GALLERIES ] [ TRIBAL DESIGNS ] [ TATTOO QUIZ ] [ COOL LINKS ] [ LINK TO US ] [ TATTOO BOOKS ] [ BOOK REVIEWS ] [ PRESS ROOM ] [ AWARDS ] [ ASK US! ] [ TATTOO TRIBE ] [ CONTACT INFO ]
Copyright © 1999- www.vanishingtattoo.com All rights reserved.