Queen Charlotte Islands, Home to the Haida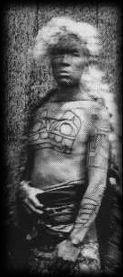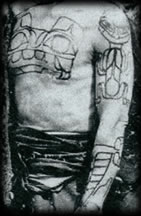 Tom finds himself not too far from home, on a group of misty islands off Canada's north-west coast. Here, he finds the Haida, the most accomplished of all North American native artists. They're a highly independent people, and still outraged that some 19th century geographer couldn't control his pink crayon... as he sloppily included their island nation in a cartographic update of the British Empire. But never mind, Tom's not here to apologize for the Queen or the Pope, but to find out more about traditional Haida tattoos. Why, for instance, did the Haida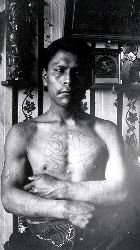 decorate themselves so much more than other coastal tribes? And just as importantly - what happened to the tradition?

Tom locates an elder who is able to paint a word picture of the way things were. If the traditional tattoo is all but history, it's still easy to imagine, because Haida body art resembles heraldic designs still found on totem poles today. Not idols, as early visitors thought, these images were crests, a family history told in pictures. Tom learns that on men, the designs were inked high on the back between the shoulder blades. Also on the breast and on the thighs, and below the knees. Women took images on the breasts, shoulders, and from knee to ankle. Animals on the hands and forearms always announced the family name.

Mythological and legendary creatures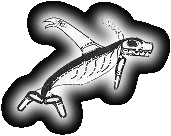 We're all familiar with the fanciful interpretations of creatures in Haida art, but Tom is more interested in their mythological and legendary creatures. Which isn't surprising since Tom's body suit is largely composed of Japanese mythological art. And, of course, Tom wants to know how the work was done. With what needles, what coloring matter, and how long did it take? The question of why the Haida tattooed, leads us to a comparison with other Northern peoples.
Tattooed in order to gain admittance to the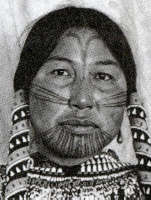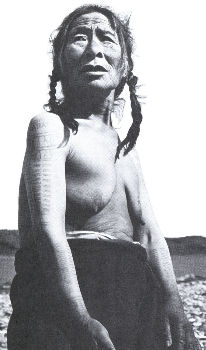 Eskimos in the Mackenzie Delta, for instance, sported small crosses or "flukes" on the cheeks or shoulders that kept a tally of the whales they'd taken. The Quebec Inuit displayed a shoulder tattoo indicating they'd killed a bowhead whale - or a white man! Netsilik women were tattooed in order to gain admittance to the afterworld. Other Eskimo women took lines on their chin - as did homosexual males, as long as they wore women's clothes and did women's work.

Tom wants to stick around and learn more about northern tattooing, but he knows he's procrastinating. He's got a couple more stops to make before his journey is complete. From north of 60, it's back down to the Philippines.
You simply MUST see this incredible find!!
Amazing Discovery of Early Haida "Tattooing Kit" at Smithsonian Institution
Civilization.ca - Haida - The people and the land - Mythology and crests
Click here to see more examples of early Haida tattoos!
Crest Tattoos of the Tlingit and Haida of the Northwest Coast

---
[ Home ] [ CELEB TATTOOS ] [ TATTOO TRIP MAP ] [ JOURNEY STARTS ] [ A JOURNEY ENDS ] [ PHOTO GALLERIES ] [ TRIBAL DESIGNS ] [ TATTOO QUIZ ] [ COOL LINKS ] [ LINK TO US ] [ TATTOO BOOKS ] [ BOOK REVIEWS ] [ PRESS ROOM ] [ AWARDS ] [ ASK US! ] [ TATTOO TRIBE ] [ CONTACT INFO ]
Copyright © 1999- www.vanishingtattoo.com All rights reserved.