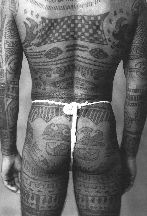 Tahiti - Samoa - New Zealand
Lockhart returns to the place where the word tattoo originated, where the tribal tattoo reached perfection, and where its application is most painful. It becomes clear to us that tattooing has been widely practiced for thousands of years. And just as obvious that it reached a high level of artistic endeavor. In Tahiti Lockhart might well find the right artist to render his last tattoo. Or will it be in Samoa, (more on Samoan tattooing and instruments) the only Polynesian island nation where missionaries failed to interrupt the tattooing tradition? Oddly, Lockhart may have to travel to New Zealand to encounter Samoan tattoo artists inking in the original style.
Deep spiritual beliefs of the Samoans...

Outside Auckland, the Sulu'ape brothers were at one time kept busy inking Samoan expats who still believe that the elaborate geometrical designs of the traditional body suit is the rite of passage to manhood. (tragically Paulo Sulu'ape's life ended in 1999) It just might take the deep spiritual beliefs of the Samoans to bring Lockhart under the needle. To Samoans, the tattoo is a show of respect for the God-qualities within themselves. Courage and valor are definitely going to be required of Lockhart if he goes through with his plan.

Maori tattoos
Thomas knows the tradition of moko started with ancient Maori warriors who painted their faces with charcoal before each battle. They began to make the lines permanent, rather than reapplying the charcoal with each battle. It was said that a man without moko was a papatea (plain face) and was considered an outcast and a nobody. Just how badly does Thomas want that tattoo...

Click Here >> to check out Samoan tattooing and the tools used

Check Out >> Tribal tattoos of Papua New Guinea

Check Out >> Sacred skin - tattoos of Easter Island

---
[ Home ] [ CELEB TATTOOS ] [ TATTOO TRIP MAP ] [ JOURNEY STARTS ] [ A JOURNEY ENDS ] [ PHOTO GALLERIES ] [ TRIBAL DESIGNS ] [ TATTOO QUIZ ] [ COOL LINKS ] [ LINK TO US ] [ TATTOO BOOKS ] [ BOOK REVIEWS ] [ PRESS ROOM ] [ AWARDS ] [ ASK US! ] [ TATTOO TRIBE ] [ CONTACT INFO ]
Copyright © 1999- www.vanishingtattoo.com All rights reserved.