A boy had to taste the blood of his first victim...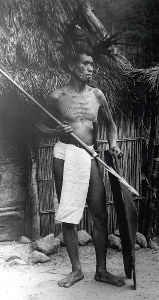 Lockhart passes through classic rice terrace landscapes that adorn every travel poster from The Philippines. It's an area struggling to modernize, struggling to remain the same. Here, he's told, he'll find the world's oldest man. He also comes across some ancient beliefs -- if a small bird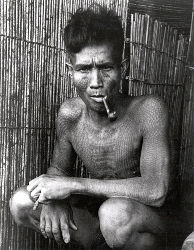 Tom keeps his eyes open as he zeros in on the northern Kalinga tribesmen, the most ornamented people of the region. He's heard that traditional warfare, head hunting, and tattooing as a rite of passage, are all but extinct. In their place, institutionalized peace pacts reinforce rites of kinship and cement social ties. But it's only a matter of time before Tom encounters heavily tattooed village elders who might dramatize the tattoo tradition for the camera -- and resurrect their body art one more time.
It ensured he would not die young
According to Kalinga tradition, a boy had to taste the blood of his first victim before the community recognized him as a warrior. The blood not only gave him strength, it ensured he would not die young. Tom finds a family steeped in the old ways and is shown how the jaw bone of a past trophy was rendered into the handle of a brass gong. He is told that a pig or water buffalo used to be sacrificially slaughtered to honor the event, then one more animal presented as payment to the tattooist. Lockhart watches the old tattooist ready a needle for dipping in pine and sugarcane juice. Que sera, sera.
Curious about the photographer responsible for the two shots on this page?
Find out more about self taught photographer Eduardo Masferrè here!
A detour waits ahead
Perhaps, half a world away, among the secrets of the ancient Pictish Nation there remains some hint as to why we tattoo. Thomas has to know, so we head to...
---
[ Home ] [ CELEB TATTOOS ] [ TATTOO TRIP MAP ] [ JOURNEY STARTS ] [ A JOURNEY ENDS ] [ PHOTO GALLERIES ] [ TRIBAL DESIGNS ] [ TATTOO QUIZ ] [ COOL LINKS ] [ LINK TO US ] [ TATTOO BOOKS ] [ BOOK REVIEWS ] [ PRESS ROOM ] [ AWARDS ] [ ASK US! ] [ TATTOO TRIBE ] [ CONTACT INFO ]
Copyright © 1999- www.vanishingtattoo.com All rights reserved.