The moment stands out vividly and continues to resonate in the memory of Thomas Lockhart. For a world renowned tattoo artist it would be understandable if you imagined that the event that shaped the rest of his life was the first time he went under the needle of an electric tattoo gun. But in the summer of 1965 Thomas was only thirteen years old. His first ink was still years in the future.

What Thomas will never forget was the first time he traveled alone. He had grown up in the small town atmosphere that permeated the tiny fishing community of Pender Harbor on the West Coast of British Columbia. The outside world was far removed. But a seismic event was about to shake his personal world. His parents were getting divorced. And his mother was headed back to the Prairies. She went ahead and then sent for Thomas, who was only vaguely aware of what was going on between his parents. The trip sounded like an adventure.

Not knowing that it would be four years before he would return to Pender Harbor, Thomas headed East, passing through Vancouver, Banff, and Calgary before arriving in Saskatoon. It wasn't that far from his Mother's family farm, and Saskatoon doesn't top the list of exotic travel destinations for the sophisticates of the world, but Thomas had been hooked by the lure of wanderlust. That first solitary trip to Saskatoon was the beginning of an odyssey that would take him to some of the most isolated, desolate and beautiful places on the planet.

Along the way he would be seduced and fall hopelessly, passionately, obsessively in love with the mistress who continues to rule his life to this day. That temptress was the tattoo. The attraction was its artistry and beauty, the price of which is paid for in pain and blood and its undeniable, at least in the late sixties and early seventies, hint of the forbidden. Between his scholastic endeavors at The University of Saskatchewan and later Carleton University in Ottawa in the early seventies, where he graduated with a Bachelor of Arts in Art and Psychology, Thomas traveled the length and breadth of North and South America and then Europe. His itinerary reads like a Cook's Around the World travel brochure. All over the United States and Mexico, then off to France, Holland, Belgium, Denmark, Norway, Sweden, Austria, Switzerland, Yugoslavia, Italy, Spain and Portugal. He spent so much time in Central America that he became fluent in Spanish. And the tattoos he picked up along the way were the ultimate local souvenirs, an indelibly etched map of where he had wandered.

Thomas got his first tattoo in 1970. Inked in Vancouver by Curly Allen when he was eighteen. If you're going to get a tattoo, the first one should be by someone with a moniker like Curly or Doc or a self proclaimed Professor of the art. The tattoo was a cobra, poised on his shoulder, coiled to strike. It looked mean, dangerous and formidable. A young man's tattoo. Thomas loved it. The way you loved that first girl. You know the one. The one who gave you that first taste of life's possibilities.
The source of inspiration for the tattoo was uniquely Thomas Lockhart. Appearances are deceiving with Thomas. You always have to look past the surface, past the first impression and dig a little deeper. The image of the cobra had been with Thomas ever since he had read an epic poem as a teenager. He had been no more than 13 or 14 when he had read it, Thomas recalled later. The poem was about two warriors who battle to the death. When the victorious warrior uncovers a tattoo of a cobra on the arm of his vanquished foe, he realizes he has just killed his son. It was the first time Thomas recalls being aware that there was such a thing as tattoos. And to have one of a cobra on your arm! Thomas can no longer remember the author or the title of the poem, but the imagery has stuck with him. He couldn't get that cobra out of his head when he was a young man. So he had it engraved on his arm.
That poem, and Samuel Taylor Coleridge's opium fueled "Xanadu" fired Thomas' young imagination. "In stately Xanadu did Kubla Khan, A stately pleasure dome decree, where Alph, the sacred river, ran. Through caverns measureless to man, down to a sunless sea." The poem is filled with mythological figures, heroes, maidens and demons. Coleridge demons would be the source for Thomas' second tattoo, a dragon, inked two years later by Peter de Hauhn in Amsterdam.
In his early twenties and having decided to become an airline pilot, Thomas enrolled in Flight School in Argentina in 1975. His training continued at Flight schools from Buenos Aires to Abbottsford, British Columbia, for the next three years. Now back in Canada and on the West Coast, Thomas was in the vicinity of some legendary tattoo artists, men like Doc Forbes, who had been plying his craft since the roaring twenties.
Thomas' devotion to flying came into increasing conflict with his fascination and love of tattoos. Companies wanted clean-cut pilots. They didn't want long hair, tattoos and a free spirit. They wanted company men and Thomas Lockhart was nothing if not his own man. What had been an interest and a hobby in tattooing was becoming a way of life. And his travels continued to take him around the world to places like the top of Mount Kilimanjaro and to the 19,000-foot level on Mount Everest.
In 1979 Thomas went to tattoo conventions in Houston and Denver. The conventions were crucial to Thomas' development because they showed him the full extent of tattoo culture. He was astonished to find so many like-minded enthusiasts. People who shared his passion, people who were tattooed from head to toe. Bikers and free spirits. He quickly saw who was producing the most outstanding work. Three stood out as among the very best if not in fact the three best, Don Nolan, Cliff Raven and Ed Hardy. All of them would work on Thomas in the following years.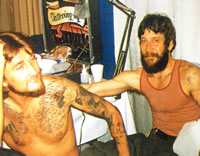 Another powerful influence on Thomas was Greg Irons, who besides being one of the top tattooists was a phenomenal artist in a number of mediums. Greg worked in San Francisco and spent time in Seattle. His work in comics and graphics was widely admired. His tattoo flash, the drawings from which tattoo stencils are made, reached a level of sophistication and beauty rarely seen before. Greg Irons was not just a tattoo artist, he was an artist. He too left his mark on Thomas.
The conventions were his revelation on the road to Damascus. Like Paul, he saw the light. On his return to Vancouver he opened his first tattoo shop. He studied tattooing like a science. He was a man possessed. He built up a huge reference library. He craved knowledge. Studied the history of tattooing. Took art and drawing classes. Delved into the chemistry of the inks he was using, explored their effects on human skin, and he became a pioneer in using sterilization. But he knew he needed to study with the master tattoo artists of his era if he wanted to become a great tattoo artist in his own right. Every painter has to go to Paris. Every great painter has his own style and Thomas knew he had yet to find his own.

The Denver convention was important for another reason. It began Thomas' connection to Japan, which would culminate in his first of many trips there in 1982. At Denver he met, Oguri, a Japanese tattoo artist who spoke English. Oguri was from Gifu City and he and Thomas kept in touch by correspondence.

Over the next half decade Thomas made a series of pilgrimages to the artists leading what would later become recognized as the West Coast renaissance in tattooing: Dave Shore in Vancouver, Don Nolan in Seattle, Cliff Raven in Los Angeles, Ed Hardy, Lyle Tuttle and Chuck Eldridge in San Francisco. Thomas learned something from each of them. Don Nolan started by in large part inking Thomas' sleeves, the tattoos that cover his arms from shoulder to elbow. Later Thomas would extend the ink all the way to his wrists. But the work Ed Hardy was doing was something special. Ed Hardy was heavily influenced by the traditional Japanese style of full body tattooing. A style introduced into the west by the legendary Sailor Jerry. Sailor Jerry's tattoo shop in Honolulu was the gateway through which the Japanese form entered the West. It was a style that spoke to Thomas in a way he still can't fully articulate. But he knew he had to go to Japan. Had to see it for himself. He had to make the pilgrimage to Mecca.

So in 1982 Thomas went to Japan. To seek out and pay homage to the style of tattooing that so moved him. It would be the first of several trips. The Japanese he met were all impressed by the quality of the work Thomas already had inked on his body, particularly the work of Ed Hardy. His friend Oguri introduced him to another Japanese tattoo artist in nearby Yokohama, Mitsukai Ohwada. Thomas was interested in having traditional work done. Ohwada introduced Thomas to rising young star Yoshito Nakano, who ultimately became known to the tattooing world as Horiyoshi III. Horiyoshi III would become a man acknowledged as one of the greatest masters of the traditional Japanese style of tattooing. Would in fact become legendary.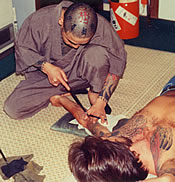 In 1982 Horiyoshi was a relative unknown to the outside world. He was eager to tattoo Thomas. Especially upon finding out that Thomas was committed to getting a full body suit, the Japanese "kimono". Tattooed in the old way. Hand tapped. A stick with up to forty needles attached. Thomas was a canvas that Horiyoshi wanted to paint. Because this canvas would travel back to the West. It was a process that was to take years. Thomas soaked in the art form like his skin absorbed ink. Took in every one of Horiyoshi's stylistic subtleties and nuances. By the time his tutelage and tattoo were complete Thomas and Horiyoshi were friends.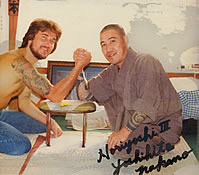 More importantly, Thomas Lockhart had found his style. The style in which he would define himself as a tattoo artist, build his reputation and refine his oeuvre. Thomas began to be written about in the magazines and journals of the tattooing world. His profile and acclaim began to grow. In the following years Thomas has done what has been recognized in the tattooing world as some of the finest Japanese style work that exists. Soon tattoo enthusiasts, aficionados and other tattoo artists were coming to see Thomas. Often traveling hundreds and even thousands of miles to get a tattoo from Thomas Lockhart and Thomas Lockhart alone. West Coast Tattoo became the place to go if you wanted a Japanese style tattoo, sleeve, kimono or bodysuit. A burgeoning film industry in Vancouver discovered Thomas and hired him extensively to recreate his art for the movies. The local media found in him an articulate and passionate advocate of his art form. If you wanted an opinion about tattooing from Thomas Lockhart all you had to do was make sure the tape recorder was turned on. The world was Thomas Lockhart's oyster. Or so it seemed.
Thomas continued his travels in the eighties and nineties. Now a master tattoo artist, he found himself spending an increasing amount of time in South East Asia because of his fascination with their cultures and traditions, particularly the native tattooing. His experiences with Horiyoshi had kindled an interest in the tattooing of other cultures. While in Borneo he got a group of ancient tribal elders to give him an authentic tribal tattoo. As the old men worked on Thomas's arm he couldn't help but wonder, who would follow in their footsteps. Where were the young men who would take their place?
The younger artists all used the latest Western technology. Thomas himself had passed out a number of electric tattoo machines as gifts all over South East Asia. Had in fact usually been the first on the local Asian tattoo scene with modern Western tattooing technology. Thomas had given Horiyoshi III himself his very first electric tattoo gun, which Horiyoshi was using. Thomas had always thought the giving of these gifts was an innocent act. Had thought that in giving out the tattoo equipment he was doing his newfound friends a favour. The local tattoo artists loved the machines Thomas had given them. Never before had they been able to do so much work so quickly. When they quickly abandoned the slower traditional methods of tattooing for the speed and efficiency of the electric guns, Thomas began to wonder if instead he hadn't opened a Pandora's box.
What were the consequences of these changes? In freely distributing the tattoo machines had Thomas in fact sown the seeds of the destruction and ultimate demise of the authentic tribal tattoo? Would the traditional ways of tribal tattooing die out? Would an ancient art form be lost forever? Would the traditional tribal tattoos done in the original authentic hand tapping style vanish? Thomas began to be haunted by what he suspected he himself had set in motion. For a man who prided himself on his abilities to live and work harmoniously with the native cultures he traveled so extensively amongst, Thomas began to experience a terrible sense of remorse and regret.