The Legendary Land of the Picts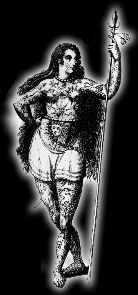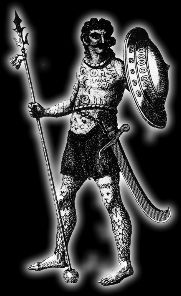 Historians disagree
The search for the vanishing tattoo takes a detour here because Thomas knows that all record of tattoos from this matrilineal culture vanished long ago. Never mind that historians disagree on nearly everything that has been written about the Picts, Thomas doesn't let the lack of facts prevent him from embarking on a pilgrimage to their famous sculptures. In the presence of these "standing stones", Lockhart conjures up an image of these painted warriors. The fifth century monk, Gildas, called them "foul hordes…like dark throngs of worms who wriggle out of narrow fissures in the rock when the sun is high and the weather grows warm."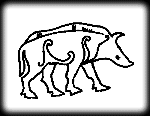 Loch Ness Monster!
Thomas sees them clearly now, his own imagination transposing the mysterious stone sculpted images of animals, abstract designs, and Christian crosses -- onto flesh. He tells us how the Picts used a blue dye from a mustard plant called "woad" to tattoo their bodies. Did the tattoos indicate rank or caste, were they symbols of religious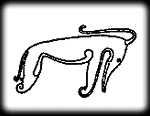 devotion, an appeal for fertility or simply for decoration? We'll never know. But if an entire society is tattooed from head to toe then surely we cannot underestimate the significance that tattoos played in Pictish culture. Thomas points to something depicted on the standing stone -- an elephantine animal with flippers. "There's your Loch Ness Monster!" Have we solved another of Scotland's great mysteries?
Perhaps a trip to Italy...
Is this the end of our journey? Are there any other clues in ancient history that we have yet to unearth? Although we have no remains of the Pictish people, there exists an ancient tattooed traveler, covered with the oldest tattoos discovered to date. Tattoos dating back over 5000 years... Ötzi, a Bronze age man, has only come to light recently in the Alps along the border of Austria and Italy. Perhaps there is a trip to Italy in Thomas's near future?
The desire to check out the Tyrol Ice Man may prove too irresistible. How often does one get a chance to see evidence of the oldest surviving tattoos in the history of mankind... but that may have to wait as this journey draws to a close. Then again...
No promises...
Tom makes no promises. If he discovers that it's not possible to get the tattoo he wants, he won't submit to less. Perhaps he'll try Thailand or Burma. If he learns that the old tattooists are too old to do the work, and if he finds out that the ceremonies that should accompany the tattoo haven't been practiced for fifty years, then perhaps he's too late. Perhaps the notion of an authentic tribal tattoo is nothing but a romantic ideal.
If that's how this journey ends, so be it. Quests don't always end as expected. They do, however, tend to nourish the seeker with the experience, insights, and knowledge they need -- so they know where they stand.
---
[ Home ] [ CELEB TATTOOS ] [ TATTOO TRIP MAP ] [ JOURNEY STARTS ] [ A JOURNEY ENDS ] [ PHOTO GALLERIES ] [ TRIBAL DESIGNS ] [ TATTOO QUIZ ] [ COOL LINKS ] [ LINK TO US ] [ TATTOO BOOKS ] [ BOOK REVIEWS ] [ PRESS ROOM ] [ AWARDS ] [ ASK US! ] [ TATTOO TRIBE ] [ CONTACT INFO ]
Copyright © 1999- www.vanishingtattoo.com All rights reserved.