The Grand Old Men of modern tattooing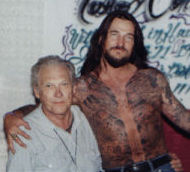 Lockhart hung out in the Bay City in the 70's, getting tattooed by the best. "Back then you could select from various schools of tattoo art," says Lockhart. "But no more." The Grand Old Men of modern tattooing can still be found, however. World famous artists like, Lyle Tuttle, Ed Hardy, and Chuck Eldridge. Tom won't begin his journey until he's paid his respects. And what better place to be regaled with colorful stories and current concerns of tattoo artists than in Chuck Eldridge's shop and archives? What better time to be briefed on tattoo's "taboo" history?

Exotica for the upper classes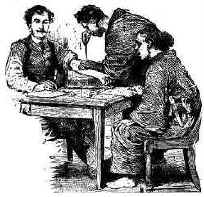 In the 18th century merchant sailors returning from voyages in the South Seas acquired tribal skin art in lieu of postcards or souvenirs. Members of the British aristocracy traditionally took to the sea, and returned with tattoos as well. The first western tattooists set up shop near the docks, as tattoos (discreetly hidden) became exotica for the upper classes. But when the port city tattooists began inking prostitutes and criminals, the tattoo became the mark of lowlifes who lived on the murky fringes of society. For hundreds of years the tattoo remained underground (and the tattooist considered as an outlaw) imprisoned there by persecutions and prohibitions born of myriad fears. End of history lesson.
Eldridge gives Lockhart some advice
Never mind that Eldridge's San Francisco tattoo shop is cramped and chaotic, this "museum" contains everything from primitive hand-tapping equipment, to the 1891 invention called a "tattaugraph", to modern machines capable of 125 pricks per second. As a young woman gets a tattoo high on her thigh, Eldridge gives Lockhart some advice. Check out an old tattoo shaman in the Bering Sea -- and be careful in Borneo.
North America's Tattooed Indian Kings
---
[ Home ] [ CELEB TATTOOS ] [ TATTOO TRIP MAP ] [ JOURNEY STARTS ] [ A JOURNEY ENDS ] [ PHOTO GALLERIES ] [ TRIBAL DESIGNS ] [ TATTOO QUIZ ] [ COOL LINKS ] [ LINK TO US ] [ TATTOO BOOKS ] [ BOOK REVIEWS ] [ PRESS ROOM ] [ AWARDS ] [ ASK US! ] [ TATTOO TRIBE ] [ CONTACT INFO ]
Copyright © 1999- www.vanishingtattoo.com All rights reserved.