TATTOO DESIGNS & SYMBOLS - CROSS MOLINE TATTOOS
Tattoo Symbol Index - A B C D E F G H I J K L M N O P Q R S T U V W X Y Z
---
Tattoo designs - C >> Cross Moline
Cross Moline Tattoo Meanings - In English heraldry, the cross moline is a design element that identifies the eighth son in a succession of inheritors. Each of the four arms of the cross moline peel off into a pair of curls at the end, producing eight points.
Design elements in heraldry, like the cross in its many variations, were originally a system of identifying combatants when their faces were hidden behind iron masks and helmets.
In French, the cross moline is known as the Croix Fourche, for its forked appearance.
The cross' shape derives from the piece of iron that supports the upper millstone of a corn-mill. In French, the word for mill is mouline. Hence, 'moline'. The Latin word molere means 'to grind'. It's not surprising that this cross is sometimes called a Millstone Cross or Miller's Cross.

A Christian point of view interprets the eight tips of the cross moline as the eight beatitudes. The cross may also have been identified with Luis Molina, a Spanish Jesuit who radically argued (in the 16th century) that God's grace was enough to sanctify the soul-even while man exercised free will.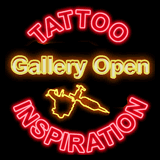 As a tattoo design and symbols, the Moline Cross has a wonderful gothic feel and appearance, alluding to both the spiritual and to a time in history long since past. So if knights, fair maidens, jousting tournaments, slaying dragons and renaissance fairs hold great appeal, this may be just the cross design you are looking for.
Get inspired by some really amazing images and photos of crosses in our Moline Cross Inspiration Gallery
See also; Celtic Cross, Saltire Tattoos, Southern Cross, Maltese Cross, Iron Cross, Battlefield Cross, Papal Cross, Religious Tattoo Index, Lucky Tattoo Index, Latino Tattoo Index
Tattoo designs - C >> Cross Moline
---
Tattoo Symbol Index - A B C D E F G H I J K L M N O P Q R S T U V W X Y Z