TATTOO DESIGNS & SYMBOLS - BULLDOG TATTOOS
Tattoo Symbol Index - A B C D E F G H I J K L M N O P Q R S T U V W X Y Z
---
Tattoo designs - B >> Bulldogs
Bulldog Tattoo Meanings - A Bulldog, also known as British Bulldog or English Bulldog, is a breed of dog which traces its ancestry to England. It should not be confused with other varieties such as the American Bulldog or the French Bulldog, which have a similar appearance.
| | |
| --- | --- |
| | Despite their famous "sourpuss" expression, bulldogs are generally docile although can prove to be very fast movers over a short distance. They are friendly and gregarious but occasionally willful. The phrase "stubborn as a bulldog" is loosely rooted in fact. They rank 77th out of 79 in Stanley Coren's The Intelligence of Dogs, being of lowest degree working/obedience intelligence. |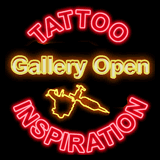 Breeders have worked to breed aggression out of the breed, and as such the dog is known to be of generally good temperament. Bulldogs can be so attached to home and family that they will not venture out of the yard without a human companion. Due to their friendly nature bulldogs are known for getting along well with children, other dogs and pets.
Get inspired by some really great images and photos in our Bulldog Inspiration Gallery
See also: Dog Tattoos, Animal Tattoos Index, Beagles, Bernese Mountain Dogs, Boxers, Cocker Spaniels, Chihuahuas, Dachshunds, Dalmations, German Sheperds, Labs, Pit Bulls, Poodles, Pugs, Retrievers, Rottweilers, Schnauzers, Shih Tzu, Shelties, Yorkshire Terriers
Tattoo designs - B >> Bulldogs
---
Tattoo Symbol Index - A B C D E F G H I J K L M N O P Q R S T U V W X Y Z