On the right is a portrait of Johhnie Kit Elswa, with tattoos on chest and forearms. The photograph was taken in Skidegate, Queen Charlotte Island in 1886 by Naval officer Albert Parker Niblack. The Bear crest is tattooed on his chest, while a Dogfish is tattooed on each wrist. Crests chronicled important mythological events in the family or clan history - usually when an ancestor encountered a spiritual being in a supernatural context. Oftentimes, stories related to these events were told and retold, in turn setting the specific family or clan apart from others while defining their social position among Haida society. When tattooed upon the body or carved onto an object, crests served as title to the animal or geographic feature depicted on it as well as to its spirit. Thus, the right to a crest, the right to use the emblem, was more valuable than the particular physical object itself.
Crests were symbols of power and prestige and their owners were given the right to pass them on to their heirs.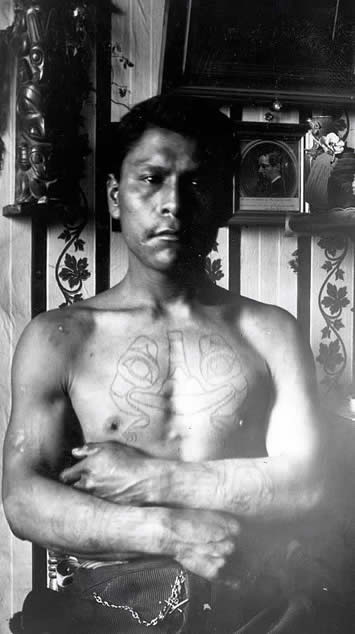 Dr. Kudé (second from left) and other shaman of Masset pose for a photograph. Kudé wears the Chilkat blanket of a chief, a title that he had claim to, rather than the dance apron of a shaman. The figure on the left wearing the mask with a crooked mouth represents the wife of one of the other masked figures who was supposed to be dead; Dr. Kudé has just restored him to life. The man on the right is Chief Xa'na of Grizzly Bear House with tattooed hereditary crests, Masset, B.C., 1881. Xa'na has a grizzly bear tattoo on his chest, a seated bear on his shoulder, and possibly a killer whale on his forearm. This is the only known photo of Haida shaman wearing masks.