TATTOO DESIGNS & SYMBOLS - ORIENTAL SHORTHAIR CAT TATTOOS
Tattoo Symbol Index - A B C D E F G H I J K L M N O P Q R S T U V W X Y Z
---
Tattoo designs - O >> Oriental Shorthair Cats
Oriental Shorthair Cat Tattoos - Oriental Shorthairs are intelligent, social animals who bond very closely to their people. They are inquisitive, friendly, emotional, demanding and often quite vocal. They will depend and trust you forever if you love and take care of them. Purr can be extremely loud when happy. Amazing cat to have if you want a loving, friendly, and social cat. All though they may not be the cutest and rat like; they are amazing cats.
| | |
| --- | --- |
| | Oriental Shorthairs have expressive, almond-shaped eyes, a wedge-shaped head with large ears that fit in the wedge of the head. Their bodies are very elegant yet muscular. When seeing an Oriental Shorthair, one would never guess them to be as solid as they are. |

The Oriental Shorthair is a self-coloured (non-pointed) member of the Siamese Family. They can be found in solid colors (white, red, cream, ebony, blue, chestnut, lavender, cinnamon, or fawn), smoke (white undercoat to any of the above except white), shaded (only the hair tips colored), parti-color (red or cream splashes on any of the above), tabby (mackerel/striped, ticked, spotted, and blotched/classic), and bi-colored (any of the above, with white).

In total, there are over 300 color and pattern combinations possible. Though in CFA, pointed cats from Oriental Shorthair parents are considered AOV (Any Other Variety), in TICA, as well as in the majority of worldwide Cat Associations, these cats are considered to be, and compete as, Siamese.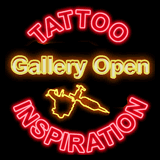 The longhaired version of the Oriental Shorthair, Oriental Longhair, simply carries a pair of the recessive long hair gene.
Get inspired by some really amazing images and photos in our Oriental Shorthair Cat Inspiration Gallery
See also: Cat, Abyssinian Cats, American Shorthairs, Birman Cats, Exotic Shorthairs, Maine Coon Cats, Persians, Ragdoll, Siamese, Sphynx Cats, Tonkinese Cats Jaguar, Leopard, Lion, Panther, Animal Tattoo Index
Tattoo designs - O >> Oriental Shorthair Cats
---
Tattoo Symbol Index - A B C D E F G H I J K L M N O P Q R S T U V W X Y Z