SCOTTISH CLAN TATTOO DESIGNS & SYMBOLS - KERR
Tattoo Symbol Index - A B C D E F G H I J K L M N O P Q R S T U V W X Y Z

Scottish Tattoo Designs >> Kerr
Kerr Clan Tattoos - The Kerrs were one of the great riding clans of the Scottish Borders, and their name is rendered in various forms, including Kerr, Ker, Carr and Carre. It stems from the old Norse, 'kjrr', meaning 'march dweller', and came to Scotland from Normandy, the French settlement of the Norse.
A brother of the first Lord Kerr, James Kerr, was one of Scotland's best loved bishops. He served briefly as High Chancellor of Scotland and was Bishop of Dunkeld, and later Archbishop of St. Andrews. At St. Andrews he founded St. Salvador's College in 1455. A variant is found on the west coast of Scotland and in particular on the island of Arran, which has a separate derivation, taken from the Gaelic 'cair', meaning 'dusky'. Nevertheless, family tradition asserts a Norman origin, from two brothers, Ralph and Robert (also called John), who came to Roxburgh from Lancashire. Which of the brothers was the elder has never been ascertained, but the senior branch of the family, the Kerr's of Ferniehurst, claim descent from Ralph, while the Kerr's of Cessford descend from John.
The influence of the Kerr's grew steadily throughout the 14th abd 15th centuries, and by the time of the fall of the Douglas's in the mid 15th century, the Kerr's had become Crown vassals with considerable influence. In 1451 Andrew Kerr of Cessford received a charter to the barony of Old Roxburgh, and in 1457 he was appointed warden of the marches. The families were confirmed in the barony and Castle of Cessford by a charter of 1493, Sir Andrew Kerr of Ferniehurst received a charter to the barony of Oxnam, and was appointed warden of the middle marches in 1502. This important and influential royal office was to pass in 1515 to another Sir Andrew Kerr, this time of the house of Cessford, who had fought at Flodden two years earlier.
| | |
| --- | --- |
| | He was killed near Melrose while escorting the infant James V to Edinburgh in July 1526. His grandson, Mark Kerr , had his lands of Newbattle and Prestongrange erected into the barony of Newbattle by a charter of 1591, and in 1606 he was created Earl of Lothian. This title failed when his son died in 1624 without male issue. Sir Andrew Kerr of Ferniehurst line was created Lord Jedburgh in 1621 |
Clan Kerr Motto: Sero Sed Serio
From Latin: Late but in earnest
See also: Claddagh, Thistle Tattoos, Scottish Lion Tattoo Designs, Welsh Dragon Tattoos, Scottish Tattoo Designs, Celtic Tattoo Designs, Family Crests, Sun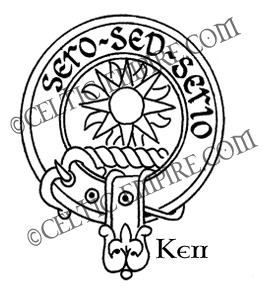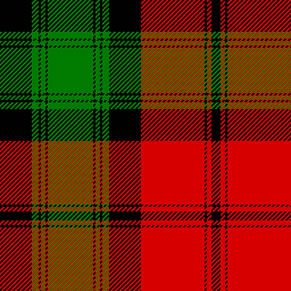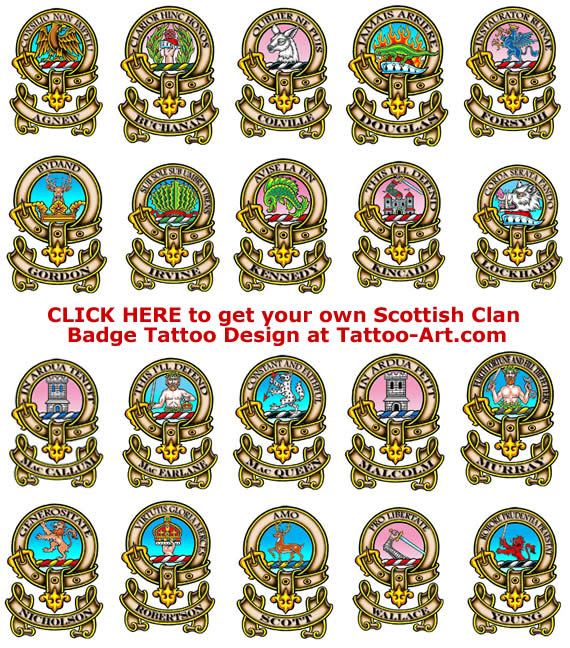 Scottish Tattoo Designs >> Kerr

Tattoo Symbol Index - A B C D E F G H I J K L M N O P Q R S T U V W X Y Z