TATTOO DESIGNS & SYMBOLS - SUN
Tattoo Symbol Index - A B C D E F G H I J K L M N O P Q R S T U V W X Y Z
---
Tattoo designs - S >> Sun

Sun Tattoos & Designs - The Sun as a tattoo design is a reflection of the Sun's profound symbolic nature in most cultures around the world. The sun was worshipped as a personified, life-giving deity in Babylonian, Egyptian, Greek, Roman, and almost every other major civilizations of history. The Sun or Sun figure was almost always the predominant figure within the pantheon of those spiritual belief systems.
| | |
| --- | --- |
| | Nearly every culture has a creation myth that explains how the sun came into being, and often times an accompanying apocalypse myth that details the end of the world, as we know it, when the sun is destroyed or devoured in some manner. Many cultures have myths that explain the rising and the setting of the sun, and this repeating cycle of light and dark has come to symbolize life and death, regeneration and reincarnation. |

The most common symbol of the sun is a circle with the sun's rays emanating from the perimeter. A dot or point in the center of a circle symbolizes the blending of male and female forces. The sun is usually seen as a masculine symbol and the moon and the earth as feminine symbols, hence you will often the Sun symbolically paired with the Moon or the Earth. For many millennia the Sun was believed to be at the center of the Universe, around which all other heavenly bodies radiated. The Sun was a symbol of both royal and divine powers, adopted by both secular and religious authorities.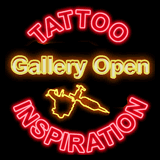 As a tattoo design and symbol, a Sun represents fertility, vitality, passion, courage and eternally renewed youth, light and knowledge. When looking at some of the popular tattoo designs, note the following, in various cultures in the history of man, the Sun was represented by the following; an Eagle, an Eagle with a Serpent, a Winged Serpent (Dragon), a Falcon (Egyptian God Horus), Phoenix, Swan, Lion, Ram, Cock or Bull. The Sun could be further represented by the Heart symbol, A Rosette or Rose, the Lotus, the Sunflower and the Chrysanthemum. An examination of the most popular tattoo designs will show an amazing correlation with the above mentioned symbols.
Get inspired by some really amazing images and photos in our Sun Inspiration Gallery
Choose your very own sun tattoo design from Tattoo-Art.com.
Buy the sun tattoo design that's perfect for you.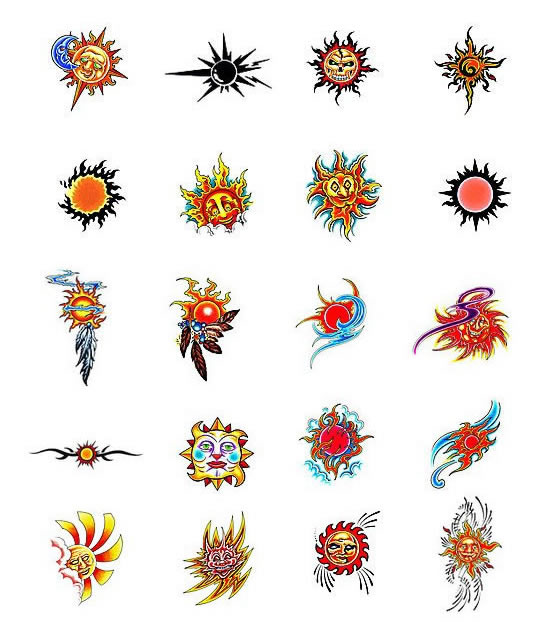 Choose your sun tattoo design from more than 2,200 different sun tattoo designs by some amazingly talented tattoo artists & flash illustrators at Tattoo Johnny.com.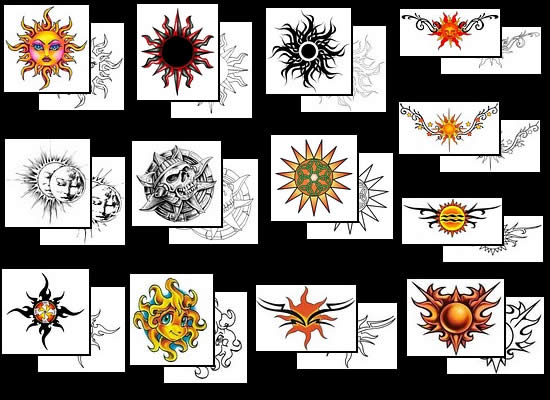 Tattoo designs - S >> Sun
---
Tattoo Symbol Index - A B C D E F G H I J K L M N O P Q R S T U V W X Y Z