TATTOO DESIGNS & SYMBOLS - HYACINTH
Tattoo Symbol Index - A B C D E F G H I J K L M N O P Q R S T U V W X Y Z
---
Tattoo designs - H >> Hyacinth
Hyacinth Tattoo Meanings - The Dutch, or Common Hyacinth of house and garden culture (H. orientalis, native to southwest Asia) was so popular in the 18th century that over 2,000 cultivars were cultivated in the Netherlands, its chief commercial producer. This hyacinth has a single dense spike of fragrant flowers in shades of red, blue, white, orange, pink, violet, or yellow.
A form of the common hyacinth is the less hardy and smaller blue- or white-petalled Roman hyacinth of florists. These flowers should have indirect sunlight and are to be moderately watered.

Several types of brodiea, deathcamas, squill, and other plants that were formerly classified in the lily family and have flower clusters borne along the stalk also have common names with hyacinth in them.

The Violet, Hyacinth, and Narcissus are all flowers with names derived from Greek mythology. The Hyacinth flower was dedicated to Apollo.

Hyacinths are sometimes associated with rebirth. The Hyacinth flower is used in the Haftseen table setting for the Persian New Year celebration Norouz held during the Spring Equinox.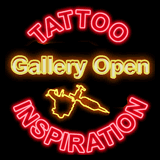 Flowers have inspired us for as long as we could see, smell and touch them. As girl's names, they became synonymous with sweetness, beauty and healing, and with even more abstract qualities such as nobility, serenity, and innocence. Not only were flowers a source of delight and cheer in themselves, but they lent themselves to the imagination and fancy of the human mind. Their colour, shape, scent and unique characteristics have given rise to myriad myths and characters whose names were synonymous with the flowers themselves.
Get inspired by some really great images and photos in our Hyacinth Inspiration Gallery
See also: Flower & Plant Tattoo Index, Bluebell Tattoos
Tattoo designs - H >> Hyacinth
---
Tattoo Symbol Index - A B C D E F G H I J K L M N O P Q R S T U V W X Y Z