TATTOO DESIGNS & SYMBOLS - BLUEBELLS
Tattoo Symbol Index - A B C D E F G H I J K L M N O P Q R S T U V W X Y Z
---
Tattoo designs - B >> Bluebell
Bluebell Tattoo Meanings - The Common Bluebell is a spring-flowering plant. The traditional name of "non-script" was intended to distinguish this plant from the classical hyacinth. In spring, many north-western European woods are covered by dense carpets of this flower; these are commonly referred to as "bluebell woods". It is estimated that 70% of all common bluebells are found in Great Britain.

The natural simplicity of the Daisy, Snowdrop and Bluebell have inspired lovers, artists, and poets to sing their praises, but all carry a warning. The Bluebell, while connoting constancy and everlasting love, is known to be an unlucky flower to pick.

| | |
| --- | --- |
| | The common Bluebell flowers in April and May. The stems are 10-30 cm long and bend over at the top. The lavender-blue flowers are pendulous, tubular with the petals recurved only at the end. The individual flowers are borne on one side of the flowering stem only. The anthers are yellowish-white or cream and are attached inside the tube more than half-way along the tube. |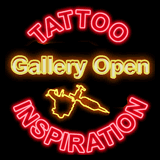 The flowers are pleasantly and usually strongly scented. The leaves, which are all basal, are narrowly linear lanceolate. Variations in color occur, most usually pinkish or in a white variety. Pollination is by insects including bees. The black seeds may have a long period of survivability and can emerge after several years absence if suitable conditions recur. The seedlings can flower in 2 years from seed; as a result, bluebells can quickly spread in suitable conditions.
Get inspired by some really amazing images and photos in our Bluebell Inspiration Gallery
See also: Flower & Plant Tattoo Index, Hyacinth Flower Tattoos
Tattoo designs - B >> Bluebell
---
Tattoo Symbol Index - A B C D E F G H I J K L M N O P Q R S T U V W X Y Z