TATTOO DESIGNS & SYMBOLS - CATTLE BRAND TATTOOS
Tattoo Symbol Index - A B C D E F G H I J K L M N O P Q R S T U V W X Y Z
---
Tattoo designs - C >> Cattle Brands
Cattle Brand Tattoo Design Meanings - Cattle or Livestock Brand tattoo designs are an interesting take on Monogram and Ambigram tattoos. Monograms are traditionally used by individuals and companies to create a distinctive and recognizable logo out of a unique combination of the initials of their name. The initials, usually two or more, are often over-lapped, reversed or arranged in a distinctive pattern. Ambigram tattoos go one step further and are optical illusions where the arrangements of letters can be viewed in more than one manner.

The origin of livestock branding goes back several thousand years. The ancient Egyptian, Greeks and Romans marked livestock - and slaves - with hot irons. Prisoners and criminals might also be branded with marks that identified their crimes.
And branding is about identification, a brand is a mark or symbol of identity. It was originally meant to convey ownership and was also meant to deter theft. Lost or stolen animals without brands were nearly impossible to identify.
Livestock brands, particularly when used for cattle and horses in the American western frontier evolved into a language all their own. To the uninitiated, a brand may look no more familiar that an Egyptian hieroglyphic, but with a little practice, a pattern soon emerges.
| | |
| --- | --- |
| | Brands are created by using capital letters of the alphabet - although, if you are creating your own unique tattoo brand, there is no rule against going lowercase! - pictures or symbols, numbers and distinctive characters, most of which can be found on any keyboard, such as the slash /, circle O, cross +, bar _, star *, etc, with no limit to your imagination when it comes to dreaming up your own personal 'tattoo brand'. |
Letters may be used alone, joined together, or, much as in a monogram, in interesting combinations. One of the really interesting and unique aspects of brands is the way that letters are displayed and described. Letters may be portrayed in an 'upright' or 'standing' position, in which case they are slightly elevated. A letter on its side, might be described as 'lying down' or 'lazy'. Upside down or reversed are known as 'crazy'.

As in a monogram, letters in a brand may also be said to be 'connected' if they touch or are over-lapped. Letters that are shown backwards are 'reversed'. A letter that is showing connected, but beneath a letter, may be described as 'hanging'. Letters that are tilted, may be said to be 'leaning' or 'running'. When the same letter is repeated, it may be referred to as a 'double' or a 'triple'. If a letter is within a partial circle, it may be called 'rocking' because of its resemblance to a rocking chair.
A picture brand is a brand of a symbol, perhaps a crescent, moon, star or stylized ladder.
There are three accepted conventions for reading brands:

1. Read from the left to right - RB (RB)

2. Read from the top to the bottom - K (Bar K)

3. When the brand is enclosed, say an R within a circle, it is read from the outside to the inside, as in ® (Circle R)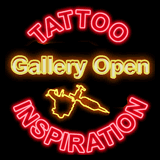 Learning to read brands is a fascinating exercise and an interesting way to delve into the frontier history of North America, as brands are used in the United States, Mexico, Canada. Many other countries also use livestock brands, from Argentina in South America to the outback of Australia.

And it's a way to create an utterly unique tattoo for yourself!
Get inspired by some really great images and photos in our Cattle Brands Inspiration Gallery
See also: : Monogram and Ambigram Tattoo Designs, Scripts, Scrolls, Names and Letters, and Number Tattoos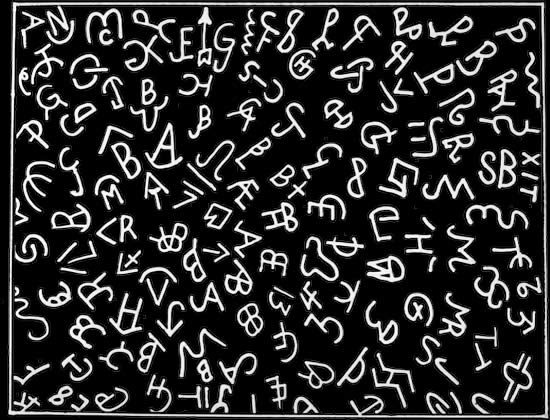 Collage of branding symbols courtesy of Devil's Rope Museum.
Tattoo designs - C >> Cattle Brands
---
Tattoo Symbol Index - A B C D E F G H I J K L M N O P Q R S T U V W X Y Z