SCOTTISH CLAN TATTOO DESIGNS & SYMBOLS - SWINTON
Tattoo Symbol Index - A B C D E F G H I J K L M N O P Q R S T U V W X Y Z

Scottish Tattoo Designs >> Swinton
Swinton Clan Tattoos - This family seems to be of Saxon origin, descended from nobles prominent in the kingdom of Nortrhumberland which straddles the border between England and Scotland. The name is said traditionally to have been acquired for their bravery in clearing the country of wild boar, and the family arms allude to this legend. The name is more likely to be territorial. The village of Swinewood in the county of Berwick was granted by Edgar, son of Malcolm III, in 1098 to Coldingham Priory. The Swintons' possessions of their land was confirmed by a charter of the Prior of Coldingham in the reign of William the Lion.
| | |
| --- | --- |
| | Edulph de Swinton received a charter, one of the first recorded in Scotland, confirming his property at Swinton from David I around 1140. Henry de Swinton appears on the Ragman Roll of 1296 as one of the nobility swearing fealty to Edward I of England. He was joined by his brother, William, priest of the church of Swinton. Sir John Swinton great-grandson of Henry, was a distinguished soldier and statesman in the reign of Robert II and Robert III. He was commander at the Battle of Otterburn in July 1388 when the Scots won the day, although their leader Douglas was slain. |
Swinton's second wife was the countess of Douglas and Mar, but they had no issue. His third wife was Princess Margaret, who bore Swinton a son, later Sir John Swinton of Swinton, reckoned to be the fifteenth Lord of the name. He was a doughty warrior who fought at the Battle of Beaugh in France in1420. Although the credit for this is claimed by others, he is said to have been the knight who slew the Duke of Clarence, brother of Henry V of England. The incident appears in Sir Walter Scott's poem, 'The Lay of the Last Minstrel'.
Clan Swinton Motto: J'espere ~ From French: I Hope
See also: Claddagh, Thistle Tattoos, Scottish Lion Tattoo Designs, Welsh Dragons, Scottish Tattoo Designs, Celtic Tattoo Designs, Family Crests, Crown, Boar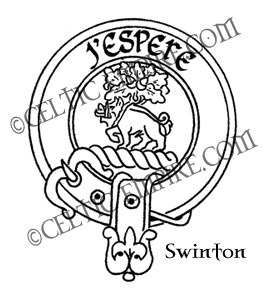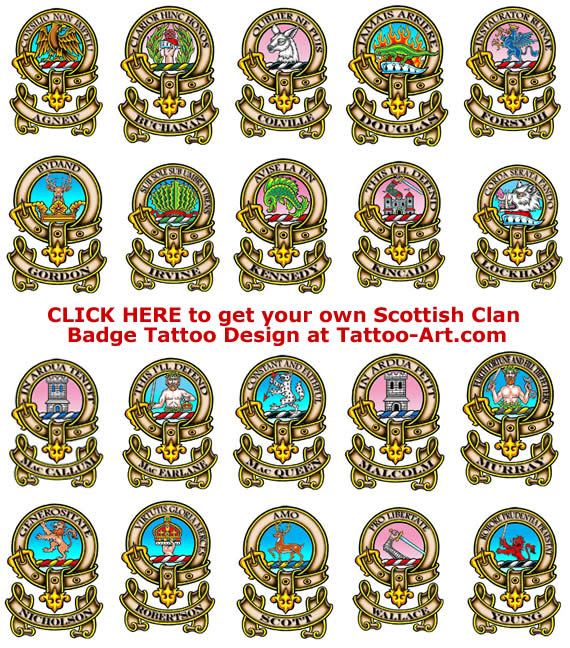 Scottish Tattoo Designs >> Swinton

Tattoo Symbol Index - A B C D E F G H I J K L M N O P Q R S T U V W X Y Z