SCOTTISH CLAN TATTOO DESIGNS & SYMBOLS - STRANGE
Tattoo Symbol Index - A B C D E F G H I J K L M N O P Q R S T U V W X Y Z

Scottish Tattoo Designs >> Strange
Strange Clan Tattoos - This name is found more commonly as Strang, and is probably derived from the Norman of French word 'etrange', meaning 'foreign'. Home le Estraunge was in the service of the Scottish king around 1255.Thomas de Strang held lands around Aberdeen in 1340. John Strang married, sometime around 1362, Cecilia, sister of Richard Anstruther of that Ilk, and received some of the lands of Balgaskie. John Strang of Balgaskie acquired the lands of Ewington and received a charter of confirmation in 1482.
| | |
| --- | --- |
| | John Strang was slain at the Battle of Pinkie in 1547. John Strang of Balgaskie sold the estate in 1615 and became colonel in Cochrane's Scots Regiment. Sir Robert Strang was descended from a younger son of the house of Balgaskie whose family has settled in Orkney at the time of the Reformation. After a brief seafaring career, he returned to Scotland when the Jacobite army entered Edinburgh in September 1745, Sir Robert was appointed to the Prince's Life Guard, where he served until the after the defeat at the Battle of Culloden. |
He escaped after several months as a fugitive in the Highlands and returned to obscurity in Edinburgh.
Clan Strange Motto: Dexter Dulce Quod Utile
From Latin: That which is useful is sweet
See also: Claddagh, Thistle Tattoos, Scottish Lion Tattoo Designs, Welsh Dragons, Scottish Tattoo Designs, Celtic Tattoo Designs, Family Crests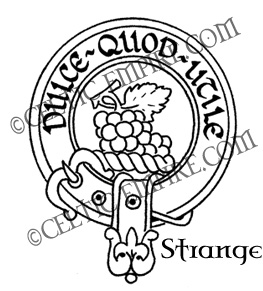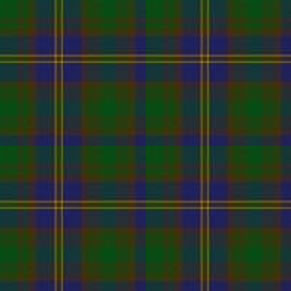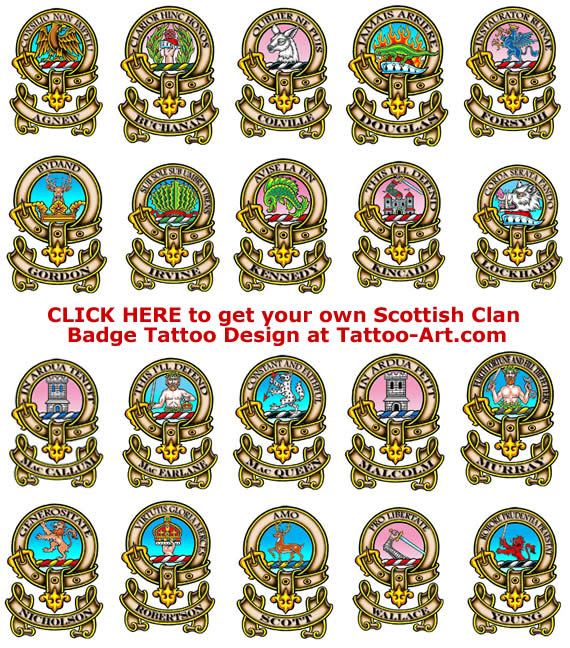 Scottish Tattoo Designs >> Strange

Tattoo Symbol Index - A B C D E F G H I J K L M N O P Q R S T U V W X Y Z