SCOTTISH CLAN TATTOO DESIGNS & SYMBOLS - STEWART
Tattoo Symbol Index - A B C D E F G H I J K L M N O P Q R S T U V W X Y Z

Scottish Tattoo Designs >> Stewart
Stewart Clan Tattoos - The Stewarts, who were to become monarchs of Scots, descended from a family who were seneschals of Dol in Brittany. The acquired estates in England after the Norman Conquest and Walter Flaad, the Steward moved to Scotland when David I claimed his throne. He was created Steward of Scotland and granted extensive estates in Renfrewshire and East Lothian. He was one of the commanders of the army that defeated Somerled of the Isles in 1164.
James, the fifth High Steward, swore fealty to Edward I of England in 1296, but later joined Sir William Wallace and on his death, Robert the Bruce, in the struggle for Scottish independence.
Walter, the High Steward, married Marjorie, Robert's daughter, and when Bruce's son, David II died childless, he was succeeded by Bruce's grandson, Robert Stewart, who reigned as Robert II. The first Stewart king had many sons. His eldest, John, succeeded to the throne as Robert III; his third son, Robert, Duke of Albany, was Regent during the reigns of his father, his brother and his nephew, James I, his fourth son, Alexander, Earl of Buchan, famed as the 'Wolf of Badenoch' was responsible for the destruction of the elegant cathedral at Elgin. When James I became of age, he curbed the power of his cousins of Albany by beheading Robert's son, Murdoch, along with the latter's sons and father-in-law.
| | |
| --- | --- |
| | The royal line of male Stewarts continued uninterrupted until the reign of Mary, Queen of Scots, and as a family they held the throne of Scotland and later that of England in the direct line until the death of Queen Anne in 1714. The present royal family has Stewart blood, both through Sophia of Hanover, granddaughter of James VI, and the mother of the present queen, formerly Elizabeth Bowes-Lyon. |
Clan Stewart Motto: Quhidder Will Zie
From Latin: Courage Grows Strong at a Wound
See also: Claddagh, Thistle Tattoos, Scottish Lion Tattoo Designs, Welsh Dragons, Scottish Tattoo Designs, Celtic Tattoo Designs, Family Crests, Birds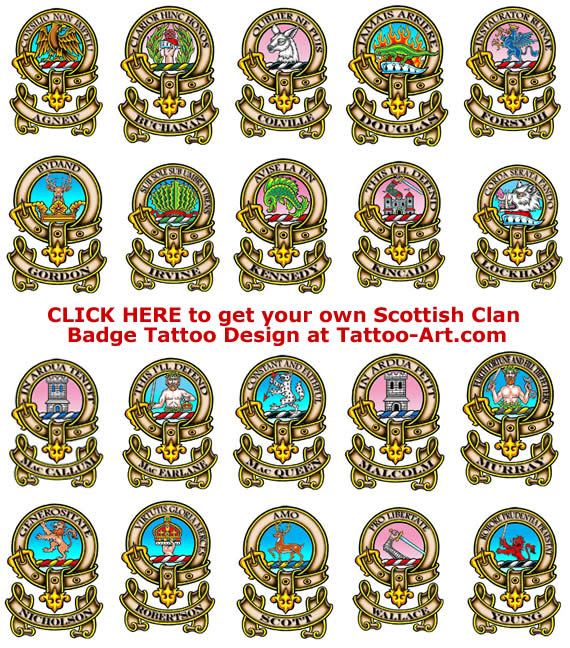 Scottish Tattoo Designs >> Stewart

Tattoo Symbol Index - A B C D E F G H I J K L M N O P Q R S T U V W X Y Z