SCOTTISH CLAN TATTOO DESIGNS & SYMBOLS - RATTRAY
Tattoo Symbol Index - A B C D E F G H I J K L M N O P Q R S T U V W X Y Z

Scottish Tattoo Designs >> Rattray
Rattray Clan Tattoos - The Rattrays take their name from the barony of Rattray in Perthshire which has been in their possession since the 11th century. The estates include the ruins of the Pictish'rath-tref', or 'fort-dwelling', which stands on a serpent shaped sandy mound which is itself associated, by local tradition, with pagan rites. The heraldic supporters of the family are two knotted serpents.
| | |
| --- | --- |
| | The first Laird of Rattray of record is Alan, who witnessed several charters of William the Lion and Alexander II. His grandson, Eustace Rattray, was captured at the Battle of Dunbar in 1296 and taken prisoner to England. His son, Sir Adam Rattray, appears on the Ragman Roll swearing fealty to Edward I of England in 1296. Adam was succeeded by his son, Alexander, who was one of the barons who sat in Parliament in Ayr in 1315 to determine the succession to the throne. |
Alexander's brother, Eustace, who was to succeed him as the sixth Laird, was accused of complicity in a plot to depose Robert the Bruce and charged with treason. He was later acquitted.
Sir Sylvester Rattray of Rattray was ambassador to England in 1463, and inherited large estates around Fortingall in Atholl from his mother. This aroused the jealousy of the powerful Earls of Atholl. After Sylvester's death, his son, Sir John, who had been knighted by James IV in 1488, succeeded to the estates. His eldest son died while serving as a professional soldier in the Netherlands, leaving, as well as another two sons, two daughters, the eldest of whom, Grizel, had married John Stewart, Earl of Atholl. The earl promptly claimed half the Barony of Rattray in her right. He also induced his wife's younger sister, Elizabeth, to convey her alleged share of the barony to him. Sir John's second son, Patrick, was driven from Rattray Castle in 1516 by Atholl and forced to take refuge in Nether Kinballoch, where he was engaged in building a new house of Craighall.
Clan Rattray Motto: Super Sidera Votum
From Latin: My wishes are above the stars
See also: Claddagh, Thistle Tattoos, Scottish Lion Tattoo Designs, Welsh Dragons, Scottish Tattoo Designs, Celtic Tattoo Designs, Family Crests, Stag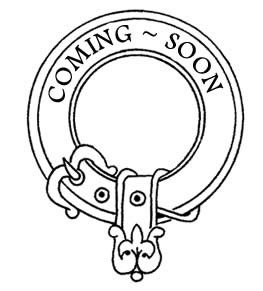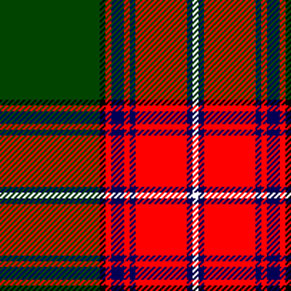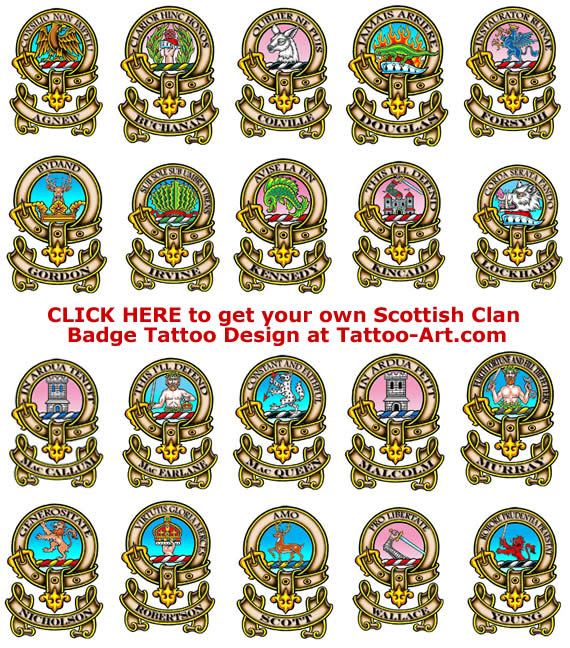 Scottish Tattoo Designs >> Rattray

Tattoo Symbol Index - A B C D E F G H I J K L M N O P Q R S T U V W X Y Z