SCOTTISH CLAN TATTOO DESIGNS & SYMBOLS - MacNab
Tattoo Symbol Index - A B C D E F G H I J K L M N O P Q R S T U V W X Y Z

Scottish Tattoo Designs >> MacNab
MacNab Clan Tattoos - The name Macnab derives from the Gaelic 'Mac An Aba' 'child of the abbot'. According to tradition, the progenitor of this clan was Abraruadh, the Abbott of Glendochart and Strathearn, the younger son of Kenneth Macalpine.
Abraruadh, the Red Abbott, was descended from King Fergus of Dalraida and nephew of St.Fillan, founder of the monastery in Glendochart in the 7th century.

One of the earliest records of the family is to be found in a charter of 1124. Malcolm de Glendochart was one of the Scottish noble men who submitted to Edward I of England and his name appears in the Ragman Roll of 1296.
Angus Macnab was brother-in-law of John Comyn, murdered in 1306 by Robert the Bruce, and he joined with the MacDougalls of Lorn in a campaign against the king which almost led to his capture at Dalrigh in Strathfillan in 1306. When Bruce's power was consolidated by the victory at Bannockburn in 1314, the Macnab lands were forfeit and their charters destroyed.
The fortunes of the clan were to some degree restored in 1336, when Angus's grandson, Gilbert, received a charter from David II.
When Lord Lyon considered the succession of the Macnab chiefs in 1954, he ruled that Gilbert should be considered the first undisputed chief (although he was perhaps the 20th).
His son, Sir Alexander, who died around 1407, succeeded Gilbert in his lands of Bothman of Bovain. By this time the Macnab lands included Ardchyle. Invermonichele and Downich. In 1522 the lands of Ewer and Leiragan were granted to Mariat Campbell by her husband, Finlay Macnab, who died at Eilean Ran on 13 April 1525.
Clan MacNab Motto: Timor Omnis Abesto
From Latin: Let Fear be Far from All
See also: Claddagh, Thistle Tattoos, Scottish Lion Tattoo Designs, Welsh Dragon Tattoos, Scottish Tattoo Designs, Celtic Tattoo Designs, Family Crests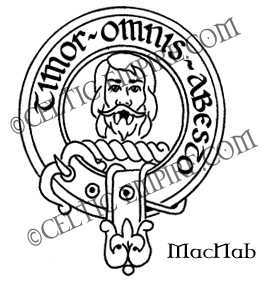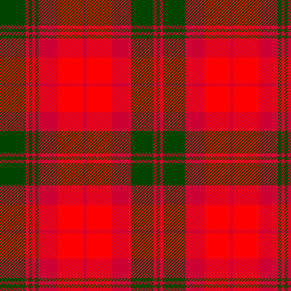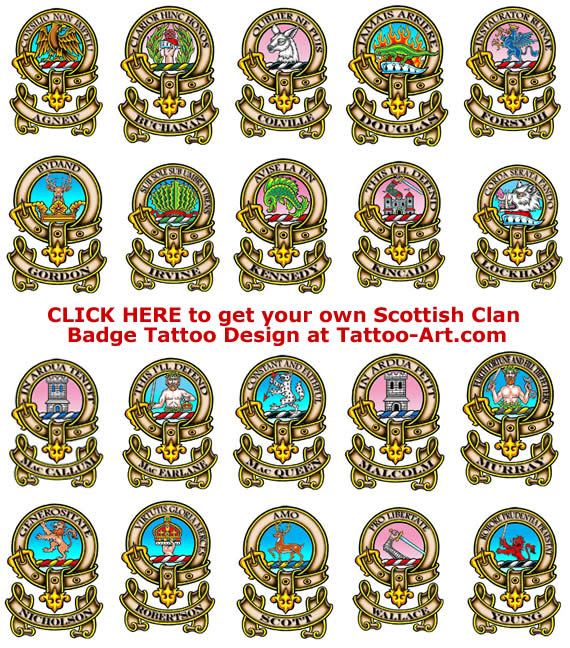 Scottish Tattoo Designs >> MacNab

Tattoo Symbol Index - A B C D E F G H I J K L M N O P Q R S T U V W X Y Z