SCOTTISH CLAN TATTOO DESIGNS & SYMBOLS - MACLEOD
Tattoo Symbol Index - A B C D E F G H I J K L M N O P Q R S T U V W X Y Z

Scottish Tattoo Designs >> Macleod
Macleod Clan Tattoos - It is generally held that Leod was the younger son of Olaf the Black, one of the last Norse kings of Man and the North Isles. Scholars now doubt Leod's direct royal origin and he may have been a foster son. Olaf died around 1237, and Leod inherited the Islands of Lewis and Harris, with part of Skye. Marriage to the Norse seneschal or steward of Skye took the family to Dunvegan which remains the chiefs seat to this day. When King Haakon was defeated at the Battle of Largs in 1263 he was forced to give up his residual claims the Western Isles, leaving Leod in possession of almost half of the Hebrides. The clam had two main branches, the Macleods of Lewis, later 'of Lewes', named after a son of Leod, Tormed ( Siol Torquil'), who established their seat at Dunvegan.
| | |
| --- | --- |
| | This spirit of independence which the clan inherited from its Norse ancestors did not make them easy subjects of the Crown, although Tormod's son supported Robert the Bruce in the War of Independence. Historians have noted that virtually no royal charters were granted to confirm the Hebridean chief in their lands and titles. |
They followed the Lord of the Isles to the Battle of Harlow in 1411, but when James IV set out to break Macdonald power the Macleods were successful in steering a path through the torturous politics of the time. However the Mcleods, who did not owe the possession of their lands to any gift of the Stewart monarchs, were forced to accept a royal charter which did not include all that was theirs by right.
Clan Macleod Motto: Hold Fast
See also: Claddagh, Thistle Tattoos, Scottish Lion Tattoo Designs, Welsh Dragon Tattoos, Scottish Tattoo Designs, Celtic Tattoo Designs, Family Crests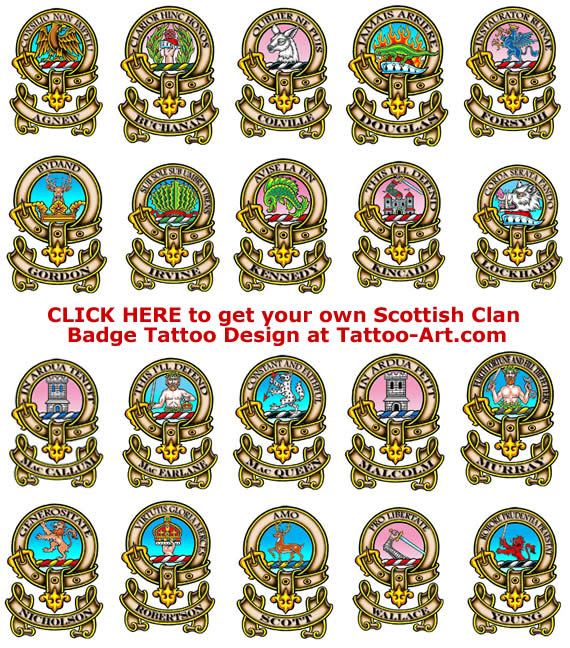 Scottish Tattoo Designs >> Macleod

Tattoo Symbol Index - A B C D E F G H I J K L M N O P Q R S T U V W X Y Z