SCOTTISH CLAN TATTOO DESIGNS & SYMBOLS - MACLELLAN
Tattoo Symbol Index - A B C D E F G H I J K L M N O P Q R S T U V W X Y Z

Scottish Tattoo Designs >> MacLellan
MacLellan Clan Tattoos - The name is Gaelic in origin, deriving from 'MacGille Fhaolian' 'son of the servant of St. Filan'. St. Filan was a missionary of the old Celtic church, and there is a village in Perthshire named after him. The name Filan itself is derived from the Celtic ' faelchu' meaning 'wolf'. The Maclellans were numerous in Galloway and gave their name to Balmaclellan in Stewartry. Ducan Maclellan appears in a charter of Alexander II IN 1217. Maclellan of Bombie was among the close followers of Sir William Wallace when he left Kircudbright for France after the defeat at Falkirk in 1293. In the early 15th century it is said there were fewer than fourteen knight of the name Maclellan in Galloway. James II restored the lands when Patrick's son, Sir William, captured the leader of a band of gypsies who were terrorizing the district. Sir William carried the head of the brigand to the king on the point of his sword. This is one explanation advanced for the origins of the crest of this family, although moors' heads are often considered to be an allusion to the Crusades.
In 1452, William, eighth Earl of Douglas, captured Sir Patrick Maclellan. The tutor of Bombie and sheriff of Galloway, and held him in Threave Castle for refusing to join the conspiracy against the king. Sir Patrick's uncle, who held high royal office, obtained letters ordering the release of Douglas's prisoner. When Douglas was presented with the warrant he promptly had Sir Patrick murdered while he entertained his uncle at dinner.

Maclellan death was another example of Douglas's contempt for royal authority which the king was later to repay by executing the Earl at Stirling.
Although there is little doubt that the celebrated Scots cannon, Mons Meg', was made at Mons in Belgium, there is a local tradition that it was the Maclellans who brought the great gun to batter down Threave as part of their revenge on the Douglas's. Sir William Maclellan of Bombie was knighted by James IV but followed the king on the ill-fated invasion of England which ended at Flodden field in 1513.
Clan MacLellan Motto: Think On
See also: Claddagh, Thistle Tattoos, Scottish Lion Tattoo Designs, Welsh Dragon Tattoos, Scottish Tattoo Designs, Celtic Tattoo Designs, Family Crests,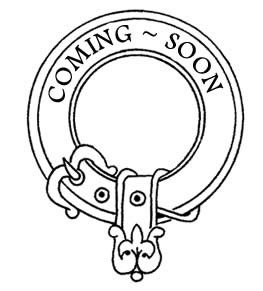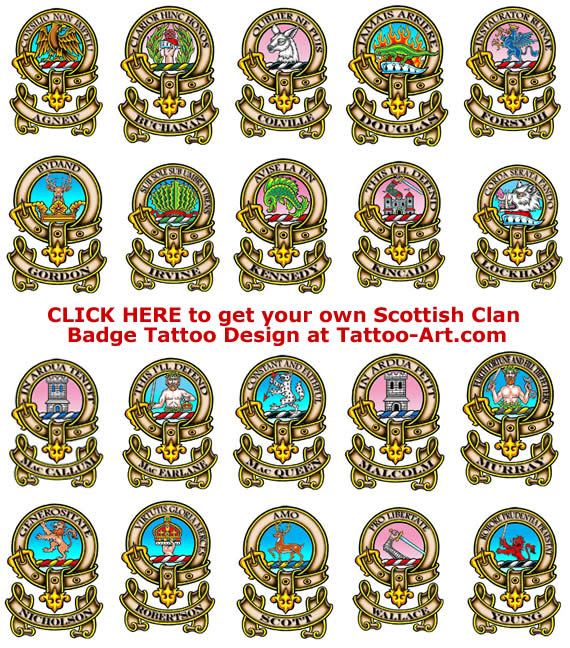 Scottish Tattoo Designs >> MacLellan

Tattoo Symbol Index - A B C D E F G H I J K L M N O P Q R S T U V W X Y Z