SCOTTISH CLAN TATTOO DESIGNS & SYMBOLS - MACLAINE
Tattoo Symbol Index - A B C D E F G H I J K L M N O P Q R S T U V W X Y Z

Scottish Tattoo Designs >> MacLaine
MacLaine Clan Tattoos - MacLaine of Lochbuie formed an important part of the clan structure of the Hebrides. They are descended from Gillean of the Battleax, a fierce warrior who lived in the mid 13th century and held lands in Mull and Morvern.
Gillen and his sons fought valiantly at the Battle of Largs, and they were well received by Alexander II. He was succeeded by Gille-Iosa, whose son, Malcolm, fought at the head of his clan at Bannockburn. Iain Dubh, Malcolm's son, was the father of Eachainn Reaganach, Hector the Stern, founder of the Macleans of Duart. These are the two main independent branches of the family, each with their various cadets, and the spelling of the names of both remained the same until the late 16th century.
| | |
| --- | --- |
| | Hector was granted lands in Mull by the Lords of the Isles around 1350 and he sat on the Council of the Isles, as did subsequent Lochbuie chiefs until the forfeiture of the lordship in 1493. Hector chose a site for his castle on Mull at the head of Loch Buie on the lands formerly held by the Macfadzeans. Moy Castle a typical Scottish tower house was built in the late 14th century and was the chief's residence until 1752, when LochBuie House was built. Loch Buie held lands on Mull, Scarba, Jura, Morvern, Locheil, and the bailliary of the south part if Tiree and of Morvern. Lands were also granted in Duror and Glencoe but they were never taken into possession. |
In 1542 the lands held by the sixth Lochbuie Chief were united into the barony of Moy.
One of the most famous legends associated with the clan is that of a headless horseman. Prior to 1538 the fifth chief, Iain Og, had a son, Ewan, who lived on a crannog, in Loch Sghubhain just north of Lochbuie. Ewan's wife, who earned the nickname, 'black swan', pressed Ewan continuously to ask his father for more land.
Clan MacLaine Motto: Vincere vel mori
Latin: To conquor or die
See also: Claddagh, Thistle Tattoos, Scottish Lion Tattoo Designs, Welsh Dragon Tattoos, Scottish Tattoo Designs, Celtic Tattoo Designs, Family Crests,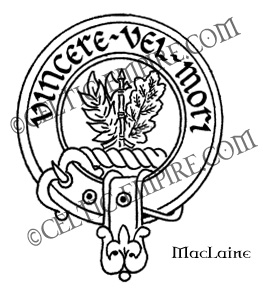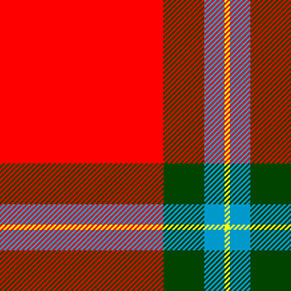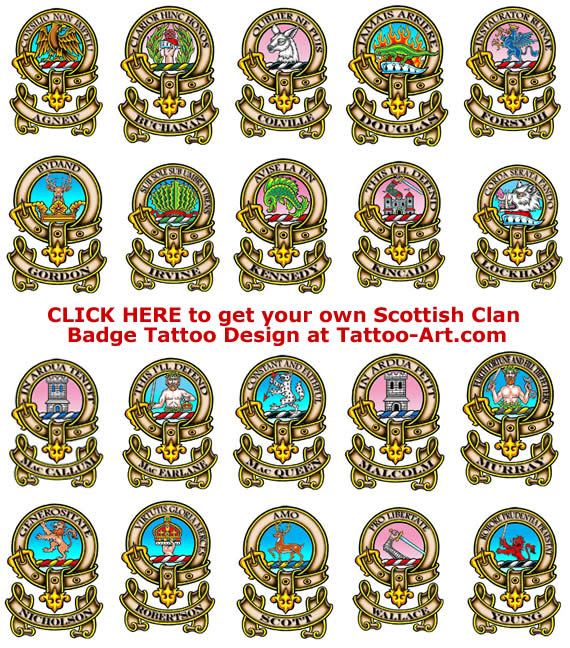 Scottish Tattoo Designs >> MacLaine

Tattoo Symbol Index - A B C D E F G H I J K L M N O P Q R S T U V W X Y Z