SCOTTISH CLAN TATTOO DESIGNS & SYMBOLS - MACKENZIE
Tattoo Symbol Index - A B C D E F G H I J K L M N O P Q R S T U V W X Y Z

Scottish Tattoo Designs >> MacKenzie
MacKenzie Clan Tattoos - The surname itself is rendered in Gaelic as 'Maccoinneach', meaning 'son of the fair bright one'. It has been suggested that the name alludes to the pagan god Cernunnos, who is often depicted as having a stag's head or antlers: this may be the explanation for the gold stag's head on the chief's shield. The Mackenzies were one of the clans who held lands in Ross between Aird on the east coast and Kintail on the west. They are believed to share a common ancestry with Clan Matheson and Clan Anrias, all three descending from the Celtic dynasty Gilleoin of the Aird, who lived at the beginning of the 12th century. By 1267 the family seem to have been settled at Eilean Donan, the great Mackenzie stronghold at the mouth of Loch Duich.
By the 15th century the earldom of Ross formed part of the patrimony of the Madonald Lords of the Isles, and at that time the Mackenzie chief could call out two thousand warriors to do his bidding.
Alexander Mackenzie of Kintail attended the Parliament at Inverness summoned by James I, at which the king imprisoned the Lord of the Isles with some of his important chiefs.

The Mackenzie chief was too young for this fate, but he quickly learned to whom he should pay allegiance, a lesson which succeeding Stewart monarchs were to hammer home to the other Highland chiefs, and he obtained a royal charter to his lands in Kintail in 1463.
The MacKenzies weathered the storms which the Stewarts unleashed on the Mcdonals, so that their fortunes waxed as the Macdonalds waned. Alasdair of Kintail raised his clan against the Earl of Montrose and was rewarded by James III, who granted him extensive lands taken from the defeated earl.
Clan MacKenzie Motto: Luceo Non Uro
From Latin: I shine, not burn
See also: Claddagh, Thistle Tattoos, Scottish Lion Tattoo Designs, Welsh Dragon Tattoos, Scottish Tattoo Designs, Celtic Tattoo Designs, Family Crests, Fire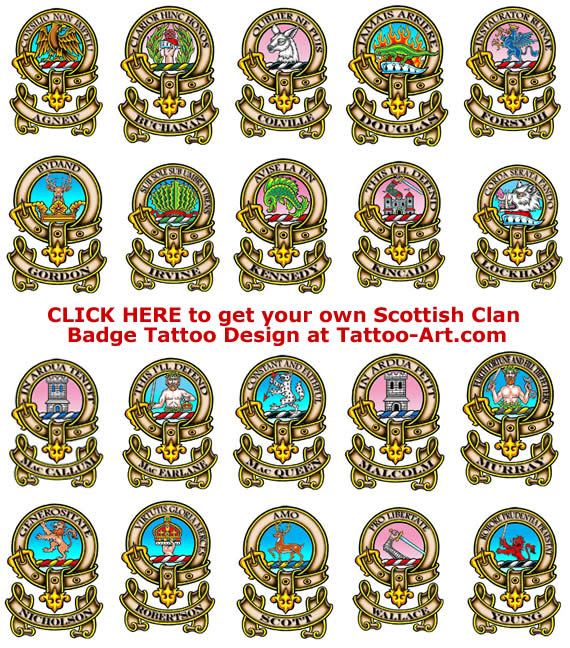 Scottish Tattoo Designs >> MacKenzie

Tattoo Symbol Index - A B C D E F G H I J K L M N O P Q R S T U V W X Y Z