SCOTTISH CLAN TATTOO DESIGNS & SYMBOLS - MACINNES
Tattoo Symbol Index - A B C D E F G H I J K L M N O P Q R S T U V W X Y Z

Scottish Tattoo Designs >> MacInnes
MacInnes Clan Tattoos - The Celtic mane is derived from the Gaelic 'Macoanghuis', meaning 'son of Angus'. Grimble notes the earliest reference to the son of Angus in given in the 7th century chronicle, Senchus Fer n'Alban'. (History of the Men of Scotland). The Scots of Dalraida appear to have been divided into three kindreds: those of Gabran, Lorne and Angus. The kindred of Angus are said to have possessed Islay, later to be the seat of the Lordship of the Isles. There is, however, little concrete evudence to connect all of this to the MacInneses as a distinct family. The arose around Morvern, and were in possession on Kinlichaline Caastle when it was attacked in 1645 by the Macdonalds who had risen fro Montrose against the Covenenters, led by Campbell of Argyll. They may have simply held the castle as keepers or captains, however, as they had become by this time quite dependent on the Campbells.
| | |
| --- | --- |
| | Another section of this family were noted as hereditary archers to the Mackinnon chiefs of Skye, and it is alluded to in the most common crest of this family, which is an arm holding a bow. The main body of the clan followed the Campbells in supporting the Hanoverian cause against the Stuart exiles, but one branch, which had become connected with the Stewarts of Ardsheal, fought for the Jacobite cause. |
In common with many fragmented families, the MacInesses scattered worldwide during the great periods of emigration and the name is commonly found throughout the English speaking world, particularly in Canada and New Zealand.
Clan MacInnes Motto: Ghift dhe Agus an righ
From Gaelic: By the grace of God and king
See also: Claddagh, Thistle Tattoos, Scottish Lion Tattoo Designs, Welsh Dragon Tattoos, Scottish Tattoo Designs, Celtic Tattoo Designs, Family Crests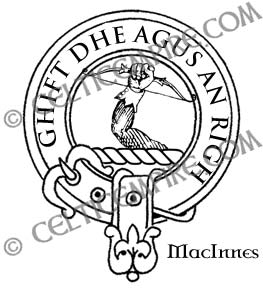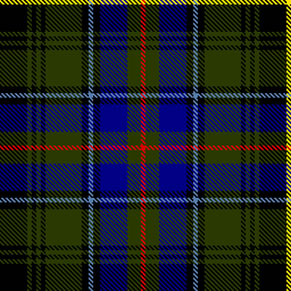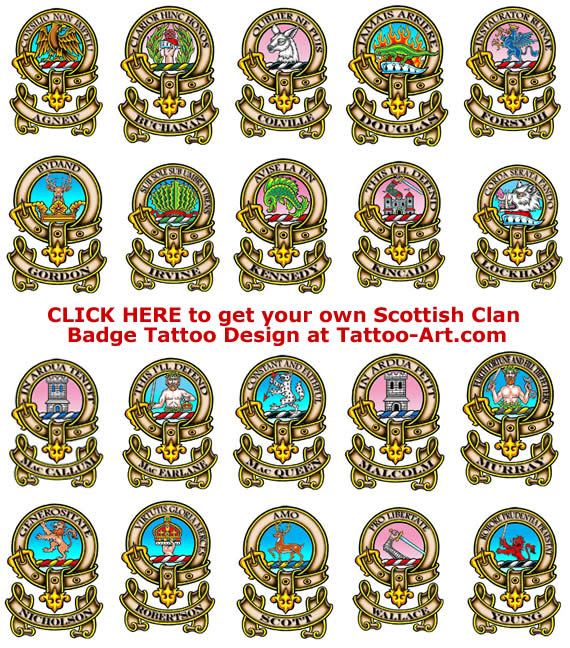 Scottish Tattoo Designs >> MacInnes

Tattoo Symbol Index - A B C D E F G H I J K L M N O P Q R S T U V W X Y Z