SCOTTISH CLAN TATTOO DESIGNS & SYMBOLS - MACGREGOR
Tattoo Symbol Index - A B C D E F G H I J K L M N O P Q R S T U V W X Y Z

Scottish Tattoo Designs >> MacGregor
MacGregor Clan Tattoos - The clan Gregor held lands in Glenstrae, Glenlochy and Glenorchy.
Sir Iain Moncreiffe believed that they were descended from the ancient Celtic royal family through the hereditary Abbots of Glendochart, a descent which nay be proclaimed through the motto,'Royal is my race'. There is no evedence to support the tradition that Gregor was the son of Kenneth Macalpin. He may have been Groigair, son of Dungal, who is said to have been co-ruler of Alba, the kingdom north of Central Scotland, between AD 879 and 889. Most modern historian agree that the first certain chief was Gregor'of the golden bridles'. Gregor's son, Iain Camm, One-eye, succeeded as the second chief sometime prior to 1390.
| | |
| --- | --- |
| | Robert the Bruce granted the barony of Loch Awe, which included much of the Macgregor lands, to the chief of the Campbells. In common with many royal gifts of the time, it was left to the recipient to work out how he would take possession of it. The Campbells had already built the stout Castle of Kilchurn, which controlled the gateway to the western Highlands. They harried the Macgregors, who were forced to retire deeper into their lands until they were largely restricted to Glenstrae. |
Iain of Glenstrae, the second of his house to be called 'black', died in 1519 with no direct heirs. The Campbells supported the succession of Eian, who was married to the daughter of Sir Cilin Campbell of Glenorchy. Eian, son, Alistair, fought the English at the Battle of Pinkie 1547 but died shortly thereafter. In 1660 Colin Campbell of Glenorchy who had bought the superiority from his kinsman, Argyll, refused to recognize the claim of Gregor Roy Macgregor to the estates. For ten years Gregor waged war against the Campbells. He had little choice but to become an outlaw, raiding cattle and sheltering in the high glens. In 1570 the Campbells captured him and killed him. His son, Alistair, claimed the chiefship, but was unable to stem the tide of persecution which was to be the fate of the 'Children of the Mist'.
Clan MacGregor Motto: Rioghal Mo Dhream
From Gaelic: Royal is My Race
See also: Claddagh, Thistle Tattoos, Scottish Lion Tattoo Designs, Welsh Dragon Tattoos, Scottish Tattoo Designs, Celtic Tattoo Designs, Family Crests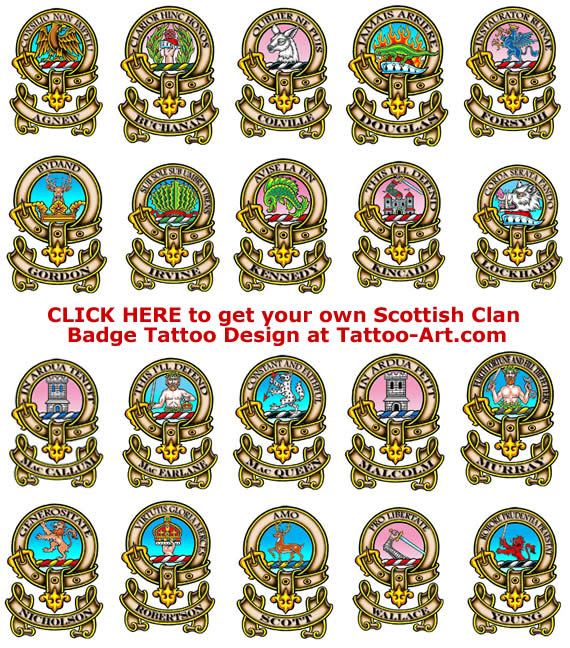 Scottish Tattoo Designs >> MacGregor

Tattoo Symbol Index - A B C D E F G H I J K L M N O P Q R S T U V W X Y Z