SCOTTISH CLAN TATTOO DESIGNS & SYMBOLS - MACDONALD OF SLEAT
Tattoo Symbol Index - A B C D E F G H I J K L M N O P Q R S T U V W X Y Z

Scottish Tattoo Designs >> MacDonald of Sleat
MacDonald of Sleat Clan Tattoos - The Macdonalds of Sleat descend from Uiosdein or Hugh, younger son of Alexander, Lord of the Isles, who died in Dingwall in 1449. Hugh was a man of power and ability, and sat on his brother's Council of the Isles. In 1495, after the Lords of the Isles had been forfeited, Hugh obtained a Crown charter to the lands he held. These he passed to his son, John, whose own sons plunged the clan into a period of death and destruction. John eventually married a daughter of Macleod of Harris by whom he had a son, Donald Hearach, but he also had at least four more sons, each by a different mother.
Gilleasbuig Dubh, or Black Archibald, his son by a daughter of Torquil Macleod of Lewis, has been said by a historian to have had a soul as dark as his complexion. He conspired with two more of his half-brothers, Angus Dubh and Angus Collach, to murder both Donald Hearach and the eldest of John's illegitimate sons, Donald Gallach. Black Archibald had Gallach strangled, and stabbed Donald Hearach in the back after inviting him to dinner to view a new galley he had built. Reprisals followed, and Archibald's half-brothers both died violent deaths. Archibald became, in this manner the sole surviving son of John. He paid the penalty for a life of blood when his nephews, Ranald and Graumach, murdered him. Donald was proclaimed chief, probably around 1518.
| | |
| --- | --- |
| | Donald son, Danald Gorm, is best remembered for his attempts to restore the ancient Lordship of the Isles. He was proclaimed chief of Clan Donald and Lord of the Isles, and in 1539 he led his men against the great Mackenzie castle Eilean Donan in Kintail. Madonald's galleys came under fire from the castle which was commanded by Duncan Macrae. Donald Gorm was shot in the leg by one of Macrae's arrows, which severed an artery, and the chief died from loss of blood. |
The feud with the Mackenzies was settled in 1569 at the Council of Perth. Donald Gorm's son died in 1575, leaving his heir, Donald Gorm Mor, a minor. When he reached manhood, he embarked upon a campaign against the Macleans. The men of Sleat invaded Mull but, after some initial success were driven back to their galleys.
Clan MacDonald of Sleat Motto: By Sea and Land
From French: Per Mare Per Terras
See also: Claddagh, Thistle Tattoos, Scottish Lion Tattoo Designs, Welsh Dragon Tattoos, Scottish Tattoo Designs, Celtic Tattoo Designs, Family Crests, Cross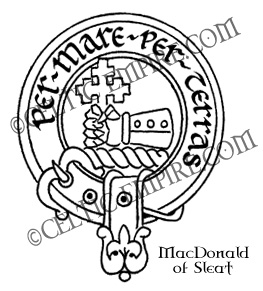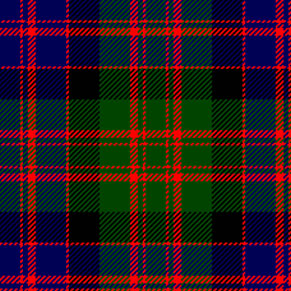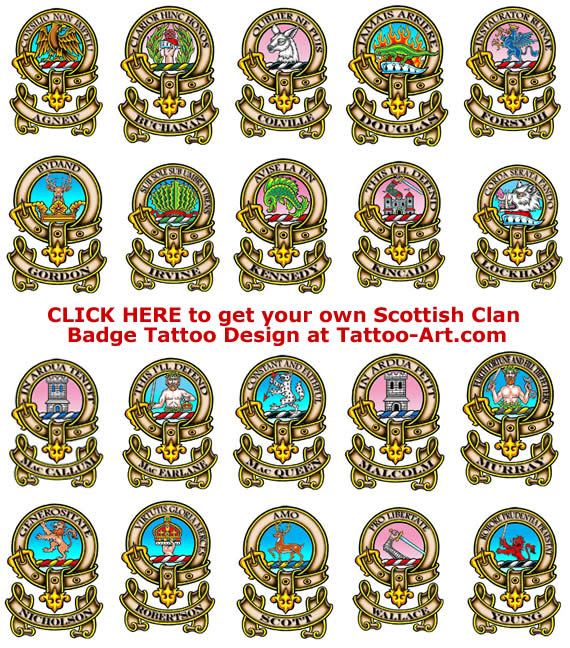 Scottish Tattoo Designs >> MacDonald of Sleat

Tattoo Symbol Index - A B C D E F G H I J K L M N O P Q R S T U V W X Y Z