SCOTTISH CLAN TATTOO DESIGNS & SYMBOLS - MACDONALD OF CLAN RANNALD
Tattoo Symbol Index - A B C D E F G H I J K L M N O P Q R S T U V W X Y Z

Scottish Tattoo Designs >> MacDonald of Clan Rannald
MacDonald of Clan Rannald Tattoos - On a broken cross shaft found on the island of Texa off Islay is carved what is probably the oldest surviving likeness of a MacDonald. It depicts a typical 14th century Celtic prince, wearing a quilted coat with chain-mail and a conical helmet, and armed with a great sword and battle-axe. This is the Cross of Ranald, son of John of Islay, Lord of the Isles, by his marriage to Amy Macruari, the heiress to the great Lordship of Garmoran, a vast inheritance of lands between the Great Glen and the Outer Hebrides. There seems little doubt that Ranald was the second and eldest surviving son of John and Amy, and heir to the chiefship of Clan Donald.
The succession did not, however, pass to him, but to Donald, his younger half-brother, whose mother was a daughter of Robert II and a Stewart princess.

Ranald received a charter from his father, confirmed by Robert II in1373, of the greater part of the Macruari inheritance, including Moydart, Arisaig and Lochaber. Clan historians believe this was part of an arrangement whereby Ranald accepted being passed over as high chief. Ranald actively participated in Donald's installation at Eigg.
Ranald had five sons, including Alan, the eldest, who was to succeed as chief of Clanranald, and Donald, who founded the line of Glengarry. Alan Macranald died at his Castle of Tirrim in 1419, succeeded by his son, Roderick, who was a staunch supporter of Lord of the Isles. Roderick believed to have died in 1481, was succeeded by his eldest son, Alan. A capable and war-like chief, he led a raid into Lochaber and Badenoch in 1491, which culminated in the capture of Inverness Castle. Clan Ranald appears to have adjusted to the realities of royal power, and on the first visit of James IV to the Highlands, Alan Macruari was one of the few chiefs who rendered homage.
Alexander, the seventh chief, led a comparatively peaceful life, marrying three times and raising a large family. He had an illegitimate son, John Moidartach, who was to succeed him in the chiefship. Why all his other sons were passed over is a mystery, but it may have been that John was the fittest person to lead the clan to war, an ability, which at that time was, still an essential element of chiefship. He was expressly legitimated by an act of Privy Council on 15 January 1531.
Clan MacDonald of Clan Rannald Motto: Per Mare Per Terras
From French: By Sea and Land
See also: Claddagh, Thistle Tattoos, Scottish Lion Tattoo Designs, Welsh Dragon Tattoos, Scottish Tattoo Designs, Celtic Tattoo Designs, Family Crests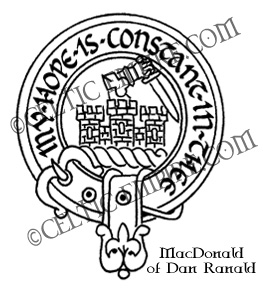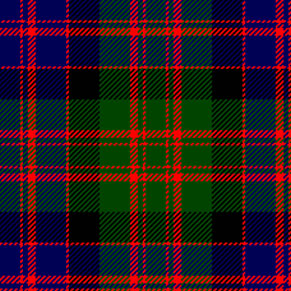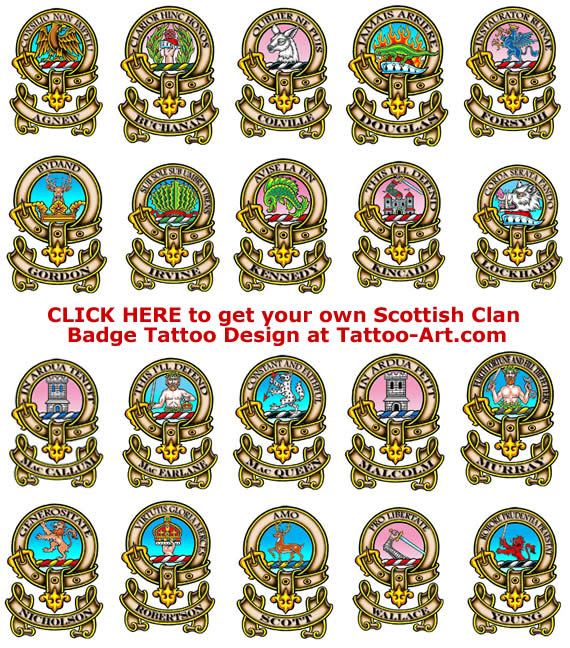 Scottish Tattoo Designs >> MacDonald of Clan Rannald

Tattoo Symbol Index - A B C D E F G H I J K L M N O P Q R S T U V W X Y Z