SCOTTISH CLAN TATTOO DESIGNS & SYMBOLS - MACDONALD
Tattoo Symbol Index - A B C D E F G H I J K L M N O P Q R S T U V W X Y Z

Scottish Tattoo Designs >> MacDonald
MacDonald Clan Tattoos - The clan MacDonald often described as the most powerful of the clans, hold as their eponymous ancestor Donald of Islay, who succeeded his father Reginald or Ranald, son of Somerled, Lord of the Isles in1270. Somerled's campaigns spanned over 40 years, during which time he gained a kingdom and the hand of Ragnhild, daughter of King Olav the Red, Norse king of Man and the Isles. The story of this match is part of the origin legends of the clan MacIntyre. The new empire stretched from Bute to Ardnamurchan, including Lorne,Argyll and Kintyre on the main land. On Somerled's death his realm was partitioned between his heirs, each of whom was to establish the fortunes of a great clan. Dugall received Lorne, Mull and Jura, and from him sprang the MacDougall's.
Angus had Bute, Arran and Garmoran, which passed through his heiress, Jane, to the Stewarts.
| | |
| --- | --- |
| | Reginald fell heir to Islay and Kintyre, which passed in due course to his son, Donald. Unlike his father , who seems to have tempered personal valour with a love of peace and culture, Donald was an iron warrior. He perpetrated so many black deeds in defence of his possessions that he feared for his salvation, and went on a pilgrimage to Rome to seek absolution for his sins from the Pope. He died , probably in 1269, when he was succeeded by Angus Mor. |
When Alexander III determined to oppose the nominal suzerainty of Norway over the Hebrides, he provoked the launching of King Haakon's fleet, which anchored of Largs in 1263. Angus Mor and his uncle, Ruari, were technically vassals of Haakon, and after his defeat at the Battle of Largs, confirmed in the Treaty of Perth in 1266, the king of Scots became their overlord.
An uneasy truce existed for a time, and Angus's son, Angus Og, came to the aid of Robert the Bruce, leading his clansmen against Edward II of England at Bannockburn in 1314. When Angus Og died in 1330, he left two sons. John, later Lord of the Isles and Iain, from whom descended the MacDonald's (Maciains) of Glencoe. John's son. Donald, inherited the Lordship in1386. He unsuccessfully laid claim to the great earldom of Ross through his wife, Margaret, which led to the bloody Battle of Harlaw in 1411. After his defeat at Harlow , Donald returned to his island fastness, and it was left to his son, Alexander to reassert the claim.
Clan MacDonald Motto: Per Mare Per Terras
From French: By Sea and Land.
See also: Claddagh, Thistle Tattoos, Scottish Lion Tattoo Designs, Welsh Dragon Tattoos, Scottish Tattoo Designs, Celtic Tattoo Designs, Family Crests, Cross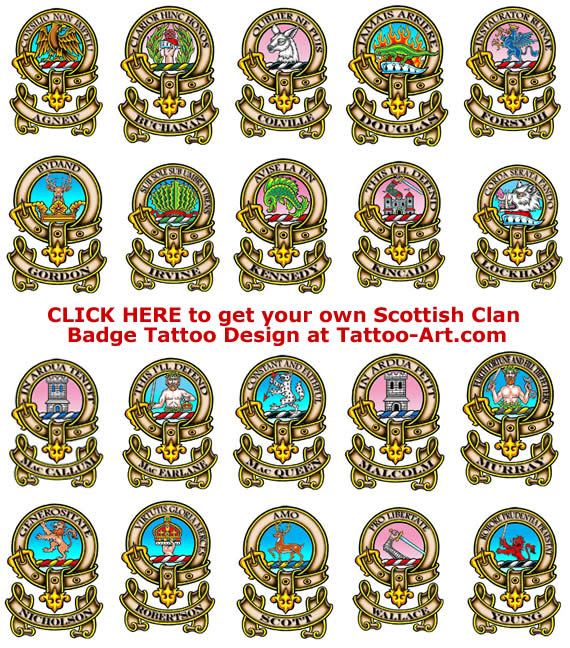 Scottish Tattoo Designs >> MacDonald

Tattoo Symbol Index - A B C D E F G H I J K L M N O P Q R S T U V W X Y Z