SCOTTISH CLAN TATTOO DESIGNS & SYMBOLS - MACBAIN
Tattoo Symbol Index - A B C D E F G H I J K L M N O P Q R S T U V W X Y Z

Scottish Tattoo Designs >> MacBain
MacBain Clan Tattoos - There are several possible Gaelic origins for this name, but the most likely appears to be 'bheathain', meaning 'lively one'. This could also have been rendered as 'Mac'ic'Bheatha', or Macbeth, a name evocative of Scotland's early history. When Malcolm deposed the line of Macbeth from the throne, the powerful noble families of Moray constantly challenged his power. Unrest continued in the region for several generations, until, in the reign of Malcolm IV, the power of the mormaers of Moray was finally broken, and the various members of the family sought refuge in other parts of the kingdom.
According to tradition the ancestors of the Macbains sought out his kin among the descendents of Gillichattan Mor, more commonly called the Clan Chattan. They bore on their shields the galley which is also borne by Macbain, alluding to their common ancestry. It is believed that Macbain formed part of the wedding party that accompanied Eva, daughter of Dougall Dall, sixth in line from the Gillichattan Mor, on her marriage to Angus, chief of the Macintoshes, in 1291.Macbain was welcomed by his Mackintosh hosts and settled around Inverness. In order to avoid further royal persecution, the
Macbains joined the Chattan confederation of clans, and the chief's crest and motto clearly demonstrate this.

The earliest record of the name in its modern form appears in an old Kinrara manuscript of the mid 14th century, which names both Bean MacMilmhor and his son , Milmor Macbean.
The Macbains supported Robert the Bruce in the struggle for Scottish independence, and they are credited with killing the steward of the Red Comyn, whose master had been stabbed to death by the Bruce himself in the Greyfriars Church at Dumfries in 1306. They fought at the Battle of Harlow in 1411 along with the rest of the Chattan Confederation on the side of the Macdonald Lord of the Isles in the last serious attempt to wrest the Lordship of the Islea from the grip of the king of Scots. They suffered heavy losses in what otherwise was an evenly matched battle.
Clan MacBain Motto: Bot A Targe
From Latin: Touch Not The Cat
See also: Claddagh, Thistle Tattoos, Scottish Lion Tattoo Designs, Welsh Dragon Tattoos, Scottish Tattoo Designs, Celtic Tattoo Designs, Family Crests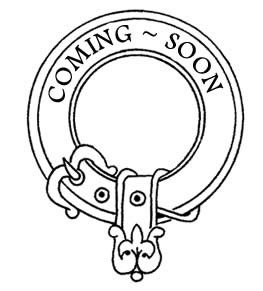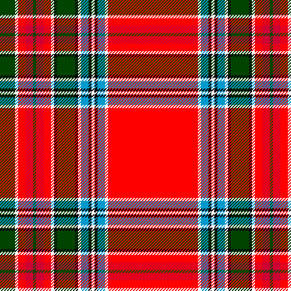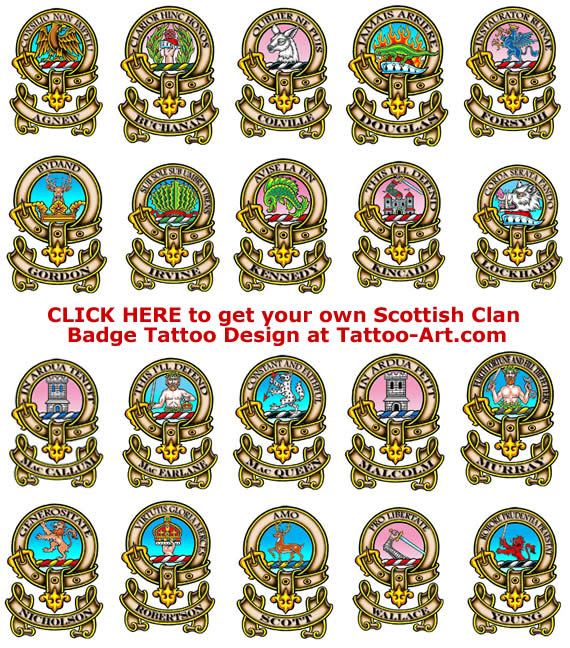 Scottish Tattoo Designs >> MacBain

Tattoo Symbol Index - A B C D E F G H I J K L M N O P Q R S T U V W X Y Z