SCOTTISH CLAN TATTOO DESIGNS & SYMBOLS - LUMSDEN
Tattoo Symbol Index - A B C D E F G H I J K L M N O P Q R S T U V W X Y Z

Scottish Tattoo Designs >> Lumsden
Lumsden Clan Tattoos - The manor of Lumsdene is first mentioned in 1098 when Edgar, King of the Scots, and son of Malcolm III and Margaret, refounded Coldingham Priory in the county of Berwick, endowing it with the villages of Coldingham, Lumsdene, Renton and Swinewood.
| | |
| --- | --- |
| | The first recorded possesors of the land, didvided into Easter and Wester Lumsden, wrwe Gillem and Cren de Lummisden who between 1166 and 1182 attested a charter granted to the priory of Coldingham by Waldeve, Earl of Dunbar. Gilbert de Lumisden appears as a witness to charters between 1249 and 1262. The common ancestor of the Lumsdens, Adam de Lumisden of that Ilk, and his son, Roger de Lummesdene, did homage to Edward I of England in 1296, and their names appear, with the variations of spelling, on the Ragman Roll. |
From Adam, the first recognized chief of the name Lumsden, descended Gilbert, who married the heiress of Blanerne, as evidenced by charter of 15 June 1329, and he lateradopted her crest of a white tailed eagle, or 'earne' devouring a salmon. This crest is still used by the Fife armigerous branch of the family. From Gilbet's son, another Gilbert, descended the families of Lumsden , or Lumsdaine of Blanerne in Berwick, and Airdrie,Innergellie, Stravithie, Lathallan and Rennyhill in Fife. Gilbert's younger son,Thomas held the lands of Drum and Conland in Fife and East and West Medlar, or Cuchnie in Aberdeenshire as confirmed in a charter in 1353. From him descend the northern Lumsdens of Cushnie-Lumsden, Tllycairn, Clova and Auchindoir.
The family of Burgess-Lumden of Pitcaple descends through the female line. The more recent Lumsden estates of Balmedie, Belhelvie, Sluie and Banchory belonged or belong to cadet branches of these families. The senior line of Lumsden did not register their arms in 1672, but two cadet houses, of Alexander Lumsden of Cushnie and Sir James Lumsden of Innergellie, did so, both registering indifference arms. At present there are thirteen members of the Lumsden family who bear arms, either as matriculated cadet descendents of Alexander and Sir James or on grants in their own right.
Clan Lumsden Motto: Amor Patitur Moras
From French: Love endures delays
See also: Claddagh, Thistle Tattoos, Scottish Lion Tattoo Designs, Welsh Dragon Tattoos, Scottish Tattoo Designs, Celtic Tattoo Designs, Family Crests, Sword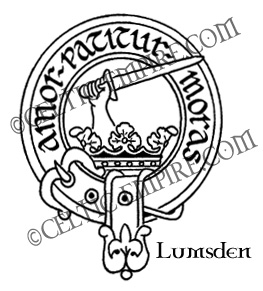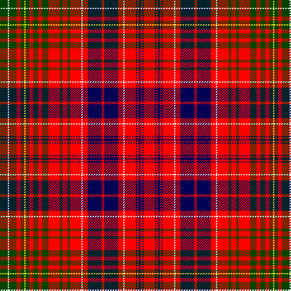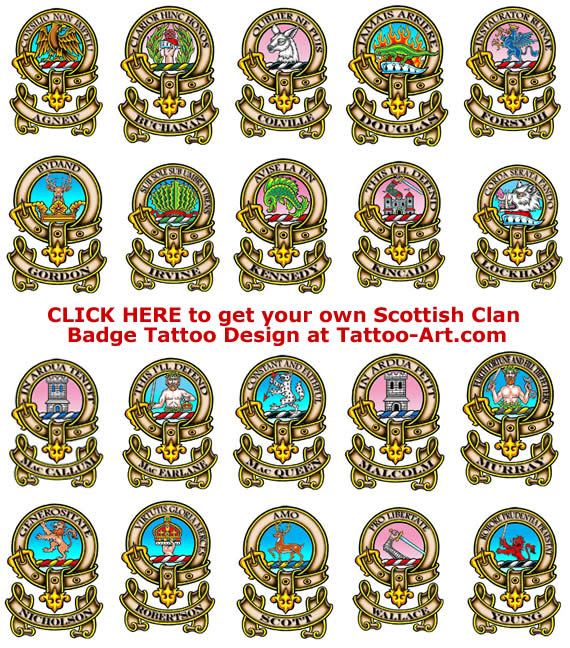 Scottish Tattoo Designs >> Lumsden

Tattoo Symbol Index - A B C D E F G H I J K L M N O P Q R S T U V W X Y Z