SCOTTISH CLAN TATTOO DESIGNS & SYMBOLS - LESLIE
Tattoo Symbol Index - A B C D E F G H I J K L M N O P Q R S T U V W X Y Z

Scottish Tattoo Designs >> Leslie
Leslie Clan Tattoos - The progenitor of this great Scottish family is claimed as Bartolf, a Hungarian nobleman who came to Scotland in 1067 in the retinue of Edgar the Aethling, brother of Margaret, later queen of Malcolm III. Bartolf was apparently a man of intellect and bravery, for which qualities Malcolm appointed him governor of Edinburgh Castle and bestowed on him estates in Fife, Angus, the Mearns and Aberdeenshire. It is said that he was carrying the queen across a swollen river upon his own horse. The queen almost fell from the horse, whereupon Bartolf cried out 'Grip fast', and as the queen took hold of his belt buckle she replied, Will the buckle bide.
| | |
| --- | --- |
| | The river crossing was accomplished, and to commemorate the event the family has the motto, 'Grip fast', and they still carry belt buckles on their shield. Bartolf established his principal holdings in the Garioch district of Aberdeen, at a place known then as Lesselyn, where he built a castle. From Lesselyn the name has evolved to Lesley, of which spellings still vary widely. Bartolf's son, Malcolm, was created constable of the royal castle at Inverury which he held for David II, and his great-grandson, Sir Norman Lesley, acquired the lands of Fythkill in Fife, afterwards called Lesley, around 1282. |
The chiefly line passed to a junior branch of the family from whom the present chiefs, the Earl of Rothes descend in a curious manner. In 1391 Sir Norman Lesley , believing his only son, David, to have been killed in the Crusades, settled his estates on his cousin, George Lesley. In 1398, shortly after Sir George had taken possession of the castle and lands, David returned from the Wars and claimed possession of the estate. Time has now shrouded in mystery the exact terms of the settlement that was reached, but the family resolved the matters peacefully. Sir George's grandson, another George, was created a Lord of Parliament in 1445 as Lord Lesley of Leven, and had all his lands united into the barony of Ballinreich. He was advanced to the title of Earl of Rothes sometime prior to 1458. The third Earl died at Flodden in 1513.
Clan Leslie Motto: Grip Fast
See also: Claddagh, Thistle Tattoos, Scottish Lion Tattoo Designs, Welsh Dragon Tattoos, Scottish Tattoo Designs, Celtic Tattoo Designs, Family Crests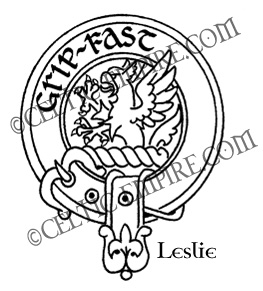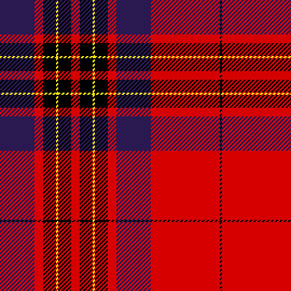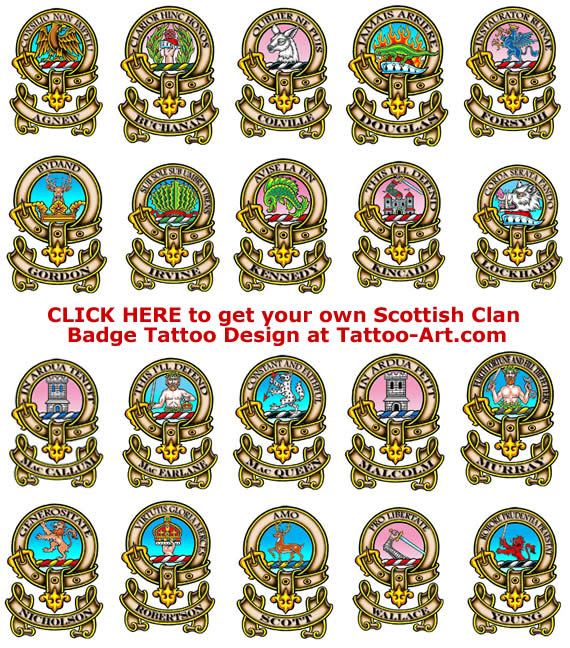 Scottish Tattoo Designs >> Leslie

Tattoo Symbol Index - A B C D E F G H I J K L M N O P Q R S T U V W X Y Z