SCOTTISH CLAN TATTOO DESIGNS & SYMBOLS - HOME
Tattoo Symbol Index - A B C D E F G H I J K L M N O P Q R S T U V W X Y Z

Scottish Tattoo Designs >> Home
Home Clan Tattoos - There are three origins of this name from opposite ends of the kingdom. A Borders family of immense power, the Homes are said to be descendents of the Saxon Princes of Northumberland through Cospatrick, Earl of Dunbar. Prior to 1266, William de Home appears on land grants to the Monastery at Coldstream. Geoffrey de Home submitted to Edward I of England in 1296. His son, Sir Thomas married the heiress to the Pepdie estate of Dunglass.
| | |
| --- | --- |
| | Sir Alexander Home of Dunglass was captured at the Battle of Homildon in 1402. He later followed the Earl of Douglas to France, where he was killed in a battle in 1424. He left three sons, from whom most of the principal branches of the family were to descend. |
His eldest grandson was created a Lord of Parliament, taking the title 'Lord Home' in 1473. He joined the rebellion against James III, which ended in the death of the king. His son, the second Lord Home, became joint administrator of the Lothians and Berwickshire during the minority of James IV, and great Chamberlain of Scotland in 1488. Lord Home and his followers formed part of the army levied by James IV for his invasion of England in 1513. At Flodden, Lord Home led the vanguard of Scots knights, and although he personally escaped the slaughter, many of his family and supporters were not so fortunate. Home was appointed one of the counsellors to the Queen Regent.
When the regency was transferred to the Duke of Albany, the fortunes of the Homes suffered. Lord Home was accused of conspiring with the English and was arrested for treason, and he and his brother were executed in October 1516, after which their heads were displayed on the Tolbooth of Edinburgh. The title and estates were, however, restored to another brother, George Home, who on several occasions led his Border spearmen against the English. On the eve of the Battle of Pinkie in 1547 he was thrown from his horse and died of the injuries that he sustained. The Home lands were occupied by the English invaders and it fell to Lord Home's son, Alexander, the fifth Lord, to retake them in 1549.
Clan Home Motto: A Home. A Home. A Home
See also: Claddagh, Thistle Tattoos, Scottish Lion Tattoo Designs, Welsh Dragon Tattoos, Scottish Tattoo Designs, Celtic Tattoo Designs, Family Crests Lion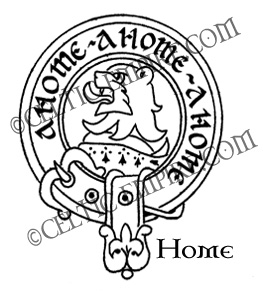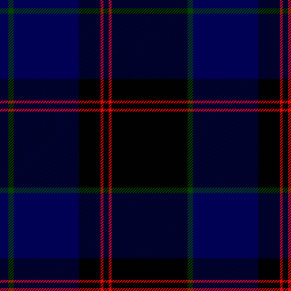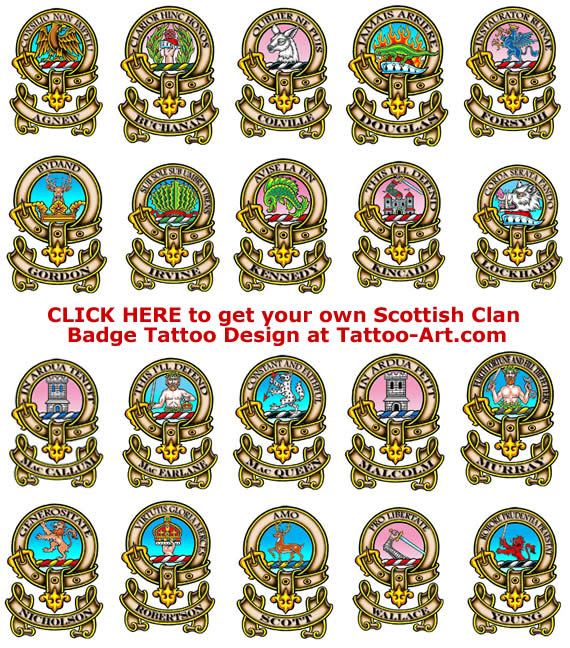 Scottish Tattoo Designs >> Home

Tattoo Symbol Index - A B C D E F G H I J K L M N O P Q R S T U V W X Y Z