SCOTTISH CLAN TATTOO DESIGNS & SYMBOLS - HANNAY
Tattoo Symbol Index - A B C D E F G H I J K L M N O P Q R S T U V W X Y Z

Scottish Tattoo Designs >> Hannay
Hannay Clan Tattoos - The Hannays hail from the ancient princedom of Galloway. The original spelling of the name appears to have been 'Ahannay', and although its origin is uncertain, it may derive from the Gaelic 'O'Hannaidh', or Ap Shenaeigh'.
| | |
| --- | --- |
| | Gilbert de Hannethe appears on the Ragman Roll among the Scottish Barons submitting to Edward I of England in 1296. This may be the Gilbert who acquired the lands of Sorbie. The Hannays were suspicious of the ambitions of the Bruces, and supported the claim of John Balliol who, through his mother, Lady Devorgilla, was descended from the Celtic Princes of Galloway. In the 15th and 16th centuries they extended their influence over much of the surrounding countryside, building a tower on their lands at Sorbie around 1550. |
The tower was the seat of the chief family of this name until the 17th century, when it fell into disrepair after the family was outlawed. In 1965 the tower was presented to a clan trust, and a maintenance scheme was put in hand.
There were many distinguished scions of the chiefly house, including Patrick Hannay, the distinguished soldier and poet whose literature, once highly regarded, is now almost forgotten.
The grandson of Donald Hannay of Sorbie, he entered the service of Queen Elizabeth of Bohemia, the daughter of James VI and sister of Charles I, who became his patron. In 1619, Hannay published two Eulogies on the death of Queen Anne, wife of James VI, and on his own death many eulogies were published. The best of these expresses the high regard with which his kin were held: Hannay thy worth betrays well whence Thou'rt sprung and that honour'd Name thou dost not wrong; As if from Sorbie's stock no branch could sprout but should with ripening bear golden fruit. Thy ancestors were ever worthy found else Galdus' grave had grac'd no Hannay ground.
Galdus was a resistance leader against the Roman legions. Also from the house of Sorbie came James Hannay, Dean of St. Giles in Edinburgh.
Clan Hannay Motto: Per Ardua Ad Alta ~ From Latin: Through Straits to Heights
See also: Claddagh, Thistle Tattoos, Scottish Lion Tattoo Designs, Welsh Dragon Tattoos, Scottish Tattoo Designs, Celtic Tattoo Designs, Family Crests Moon, Cross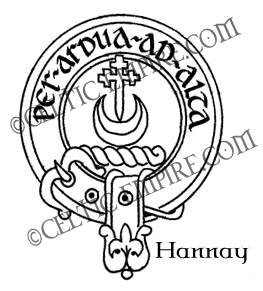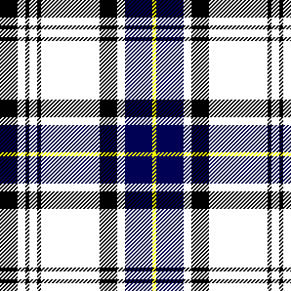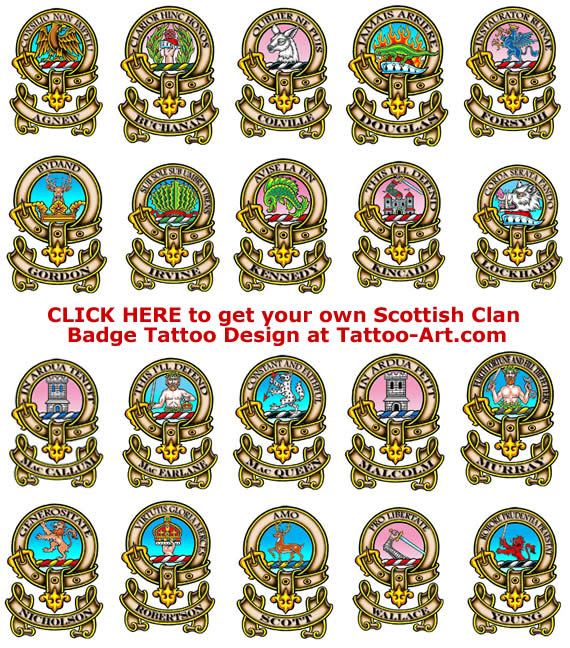 Scottish Tattoo Designs >> Hannay

Tattoo Symbol Index - A B C D E F G H I J K L M N O P Q R S T U V W X Y Z