SCOTTISH CLAN TATTOO DESIGNS & SYMBOLS - GUNN
Tattoo Symbol Index - A B C D E F G H I J K L M N O P Q R S T U V W X Y Z

Scottish Tattoo Designs >> Gunn
Gunn Clan Tattoos - Gunnni came to Caithness at the end of the 12th century when his wife, Ragnhild, inherited estates there from her brother, Harald, Jarl of Orkney. His wife was descended from St. Ragnvald, founder of the great cathedral of St. Magnus at Kirkwall. Gunnni, whose name itself means 'war', was descended from Viking adventurers. His grandfather, Sweyn, had been killed in 1171 on a raid in Dublin. The first chief of Clan Gunnn to appear definitively in records was George Gunnn, who was a crouner, or coroner, of Caithness in the 15th century.
The proper Celtic patronymic of the Gunnn chiefs was MacSheumais Chataich, but George Gunnn was more widely known as 'Am Braisdeach Mor', the 'great brooch- wearer', so called for the insignia worn by his as a coroner.
| | |
| --- | --- |
| | He is said to have held court in his castle at Clyth in such splendour as to rival any Highland chief. The Gunnns' traditional enemies were the Keiths who, from their castle at Ackergill, challenged the Gunnn chiefs both for political hegemony of the region and for the land itself. As with most feuds which were fought for wealth and power, a convenient personal insult was provided to justify the constant bloodshed as an affair of honor. |
It was claimed that Dugald Keith coveted Helen, daughter of Gunnn of Braemor. The girl stoutly resisted Keith's advances but he, on learning that the object of his desire was to be married to another man, promptly surrounded her father's house, slew many of the inhabitants and carried the girl to Ackergill. She threw herself from the castle tower rather than submit to her kidnapper. The Gunnns repeatedly raided Keith territory but they suffered defeat in 1438 at the Battle of Tannach Moor and again in 1464 at Dirlot in Strathmore.
Having suffered considerable loss of life, both families agreed to meet to settle their differences in what was probably intended to be a battle of champions. Each side were to bring twelve horse, but when the Keiths arrived they had two warriors on each horse and, as they outnumbered the Gunnns, a slaughter ensued. The chief and four of his sons were killed and the great coroners brooch stolen.
Clan Gunn Motto: Aut Pax Aut Bellum ~ From Latin: Either Peace or War
See also: Claddagh, Thistle Tattoos, Scottish Lion Tattoo Designs, Welsh Dragon Tattoos, Scottish Tattoo Designs, Celtic Tattoo Designs, Family Crests, Sword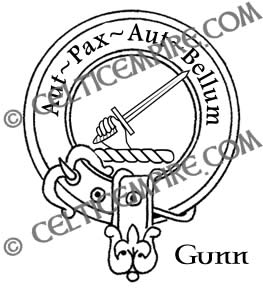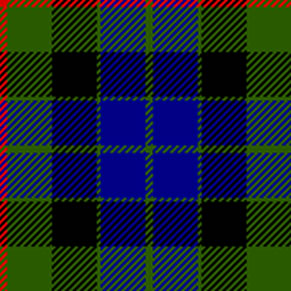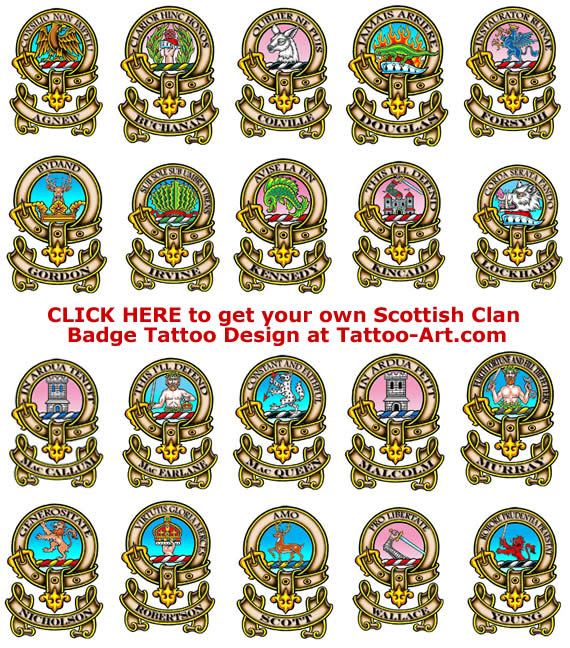 Scottish Tattoo Designs >> Gunn

Tattoo Symbol Index - A B C D E F G H I J K L M N O P Q R S T U V W X Y Z