SCOTTISH CLAN TATTOO DESIGNS & SYMBOLS - GRANT
Tattoo Symbol Index - A B C D E F G H I J K L M N O P Q R S T U V W X Y Z

Scottish Tattoo Designs >> Grant
Grant Clan Tattoos - It seems fairly certain that the ancestors of this clan would have come with the Normans to England, where the name is found in public documents soon after the Conquest. In 1229, Richard, Archbishop of Canterbury, is styled in Latin charters as 'Magnus', meaning 'large' or 'great' and in Norman or French as 'le Grand'. The Grants first appear in Scotland in the middle of the 13th century when they acquired lands in Stratherrick through the marriage of one of the family with Mary, daughter of Sir John Bisset.
From this union came at least two sons, one of whom, Sir Lawrence le Grand, became sheriff of Inverness. The Grants supported the interests of Bruce in the competition for the Scottish crown, and John and Randolph de Grant were taken prisoner at the Battle of Dunbar in 1296. They were later released , and around this time the family acquired the lands at Glenmoriston and Glen Urquhart which they still hold.
The victory of Robert the Bruce confirmed the Grants in their holdings in Strathspey, and whatever their southern origins they were now firmly established as Highland chiefs.

Their rich lands of the Spey valley provided the Grants with men and cattle, the key to power in the Highlands. Grant power was further consolidated when Sir John Grant married Maud, heiress of Glencarnie, a branch of the ancient princely dynasty of Strathearn.
In 1493 the lands were erected into a free barony of Freuchie, and in 1536 Sir James Grant built a castle, called at one time Castle Freuchie, but renamed at the end of the 17th century Castle Grant.
James Grant of Freuchie, called James the Bold, defended royal authority in the north during the insurrections there in the reign of James V . By way of reward, James granted Freuchie a charter exempting him from the jurisdiction of all royal courts except the Supreme Court in Edinburgh. When Reformation came to Scotland, the Grants soon became staunch adherents of the new doctrine, and they declared for the National Covenant in 1638.
Clan Grant Motto: Craig Elachie ~ Gaelic: The Rock of Alarm
See also: Claddagh, Thistle Tattoos, Scottish Lion Tattoo Designs, Welsh Dragon Tattoos, Scottish Tattoo Designs, Celtic Tattoo Designs, Family Crests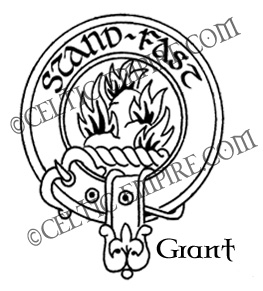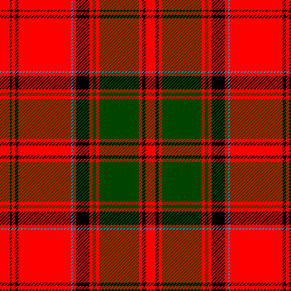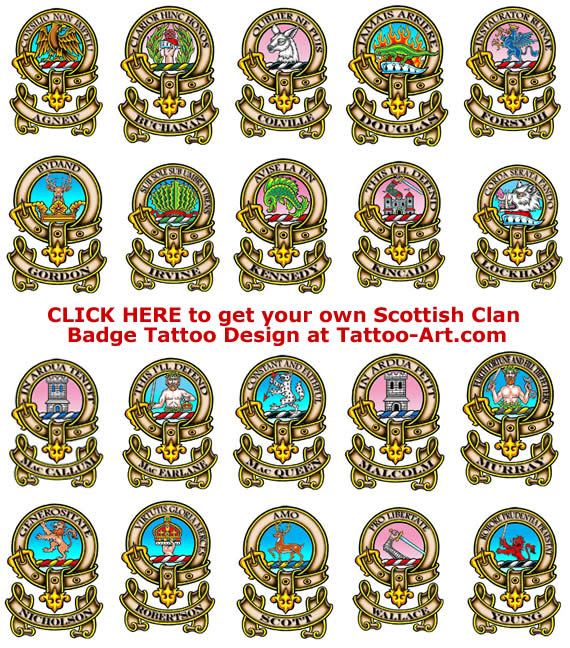 Scottish Tattoo Designs >> Grant

Tattoo Symbol Index - A B C D E F G H I J K L M N O P Q R S T U V W X Y Z