SCOTTISH CLAN TATTOO DESIGNS & SYMBOLS - GRAHAM
Tattoo Symbol Index - A B C D E F G H I J K L M N O P Q R S T U V W X Y Z

Scottish Tattoo Designs >> Graham
Graham Clan Tattoos - Despite a colourful tradition which asserts that Greme was a mighty Caledonian chief who broke the Antonine Wall driving the Roman legions out of Scotland, the likely origin of this family is Anglo-Norman; the Manor of Gregham, or Greyhome, is recorded in William the Conqueror's Doomsday Book. When David I came to Scotland to claim his throne, Graham was one of the knights who accompanied him. Sir William de Graham was present at the erection of the great Abbey of Holyrood and witnessed its foundation charter.
The first lands the family acquired in Scotland appear to have been around Dalkeith in Midlothian. Sir Nicholas de Graham attended the Parliament in 1290 where the treaty of Brigham, for the marriage of the infant heir to the Scottish throne, Margaret, the Maid of Norway, to Prince Edward of England, was agreed.
| | |
| --- | --- |
| | Their acceptance in Celtic Scotland was assured when they married into the princely family of Strathearn, and from Malise of Strathearn they acquired the lands around Auchterarder which were to become their principal seat. Sir John de Graham was a companion-in-arms of Sir William Wallace, the great patriot. His bravery was legendary even in his own lifetime, and he was called ' Graham with the bright sword'. He fell at the Battle of Falkirk in 1298, and his gravestone and effigy can still be found in Falkirk Old Parish Church. |
The family's landholdings and power grew throughout the centuries. They acquired the lands of Mugdock north of Glasgow, where they built a stout castle around 1370. Patrick Graham of Kincardine was created a peer in 1451 with the title, 'Lord Graham'. Two generations later they were created Earls of Montrose and in 1504 their hereditary lands of 'Auld Montross' were erected into a free barony and earldom of Montrose. The first Earl fell at the fateful field of Flodden in 1513. By means of purchase and inheritance the Graham lands had become, by the late 17th century, among the richest in Scotland.
Clan Graham Motto: Do Not Forget ~ From Latin: Ne Oublie
See also: Claddagh, Thistle Tattoos, Scottish Lion Tattoo Designs, Welsh Dragon Tattoos, Scottish Tattoo Designs, Celtic Tattoo Designs, Family Crests, Eagle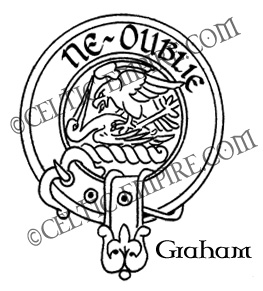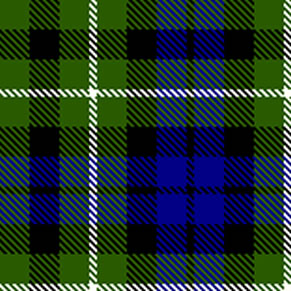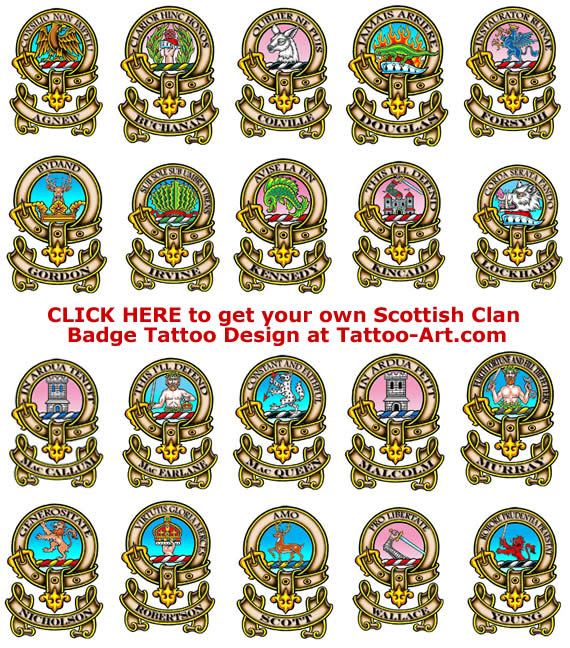 Scottish Tattoo Designs >> Graham

Tattoo Symbol Index - A B C D E F G H I J K L M N O P Q R S T U V W X Y Z