SCOTTISH CLAN TATTOO DESIGNS & SYMBOLS - FERGUSSON
Tattoo Symbol Index - A B C D E F G H I J K L M N O P Q R S T U V W X Y Z

Scottish Tattoo Designs >> Fergusson
Fergusson Clan Tattoos - The sons of Fergus have spread across Scotland, from Ross-shire in the north to Dumfriesshire in the south. The Gaelic patronynic, MacFhaerghuis', is translated alternatively as 'son of angry' or 'son of the bold and proud'. Although tradition seeks to attribute a common ancestry to the various distinct families bearing this name, there is no real evidence to support this. Indeed, the heraldry of the chiefly family is quite different from other examples relating to families of the same name.
The Argyllshire Fergussons claim descent from Fergus Mor mac Erc, a very early king of the Scots of Dalraida, who came from Ireland across Argyll. There is evidence linking the Fergussons living in Ayrshire and Dumfries with Fergus, Prince of Galloway an important figure in the reigns of David I and Malcolm IV.

He restored the church at Whithorn, founded the Abbey of Dundrennan and died at the Abbey of Holyrood in 1161.
The Earl of Carrick descended from this Fergus. The Fergussons held the lands of Kilkerran, probably from the 12th century, but the first certain record is John Fergusson of Kilkerran in 1464. He may have descended from John, son of Fergus, one of the witnesses to a charter of Edward Bruce signed at Turnberry shortly after the Battle of Bannockburn in 1341. By 1600 there were Fergussons all over the southern part of Carrick, all of whom acknowledged Kilkerran as their chief. They sided with the Kennedys in their feud with the Lairds of Bargany and were part of the Earl of Cassilli's band in the skirmish around Maybole in 1601 when Bargony met his death.
The Ayrshire Fergussons adopted the Protestant faith during the Reformation. Sir John Fergusson of Kilkerran fought for the royalists cause in the civil war. The Kilkerran estates fell heavily into debt and it fell to one of Sir John's grandsons to restore the family fortunes. Sir John Fergusson, born around 1653, became a distinguished lawyer and a member of the Faculty of Advocates in 1681. He was created a Baronet of Nova Scotia in November 1703.
Clan Fergusson Motto: Dulcius Ex Asperis
From Latin: Sweeter after difficulties
See also: Claddagh, Thistle Tattoos, Scottish Lion Tattoo Designs, Welsh Dragon Tattoos, Scottish Tattoo Designs, Celtic Tattoo Designs, Family Crests,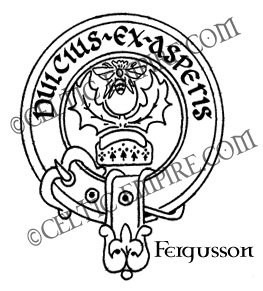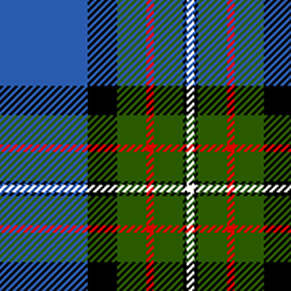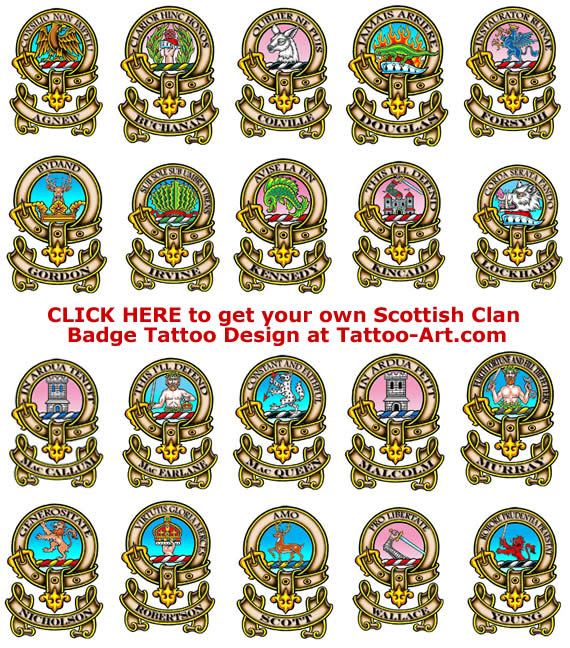 Scottish Tattoo Designs >> Fergusson

Tattoo Symbol Index - A B C D E F G H I J K L M N O P Q R S T U V W X Y Z