SCOTTISH CLAN TATTOO DESIGNS & SYMBOLS - ERSKINE
Tattoo Symbol Index - A B C D E F G H I J K L M N O P Q R S T U V W X Y Z

Scottish Tattoo Designs >> Erskine
Erskine Clan Tattoos - This name was originally derived from the lands of Erskine on the south of the Clyde in Renfrew, and the name itself maybe from the ancient British for 'green rising ground'. Henry de Erskine was proprietor of the barony as early as the reign of Alexander II. He was witness to a charter by the Earl of Lennox of the patronage and tithes of Roseneath to the Abbey of Paisley around 1226. John de Irskyn appears on the Ragman Roll of Scottish nobles submitting to Edward I of England in 1296. His son, John de Irskyn, had a son and three daughters, the eldest of whom married Thomas Bruce, brother of King Robert. A second daughter, Alice, married Walter, the High Steward of Scotland.
The Erskines were staunch supporters of the Bruce family and Sir Robert de Erskine became an illustrious and renowned figure in his time. He was appointed by David II constable and keeper of the strategic royal Castle of Stirling. (The present chief still holds this royal office, greeting the monarch at the gates on state occasions.) In 1350 he was appointed the Lord Chamberlain of Scotland and justiciar north of the Forth.
| | |
| --- | --- |
| | In 1371 he was one of the nobles who established the succession to the throne of Robert II, grandson of the great Bruce and first of the Stewart dynasty. In the mid 15th century the family claimed one of the great Celtic titles when Alexander, Earl of Mar, died in 1435. Alexander was a Stewart who claimed title through his wife, Countess of Mar in her own right. |
Sir Robert de Erskine, who had been created Lord Erskine, now claimed the ancient earldom by right of his descent from Isabella, Countess of Mar. The king, however, refused, insisting that the earldom now belonged to the crown because the last male holder had been a Stewart. Despite this dispute with the king, the Erskines became guardian to young James IV and were thereafter to be the guardians to five successive generations of royalty.
Clan Erskine Motto: Je Pense Plus ~ French: I think more
See also: Claddagh, Thistle Tattoos, Scottish Lion Tattoo Designs, Welsh Dragon Tattoos, Scottish Tattoo Designs, Celtic Tattoo Designs, Family Crests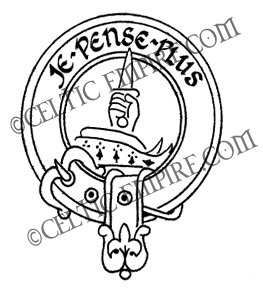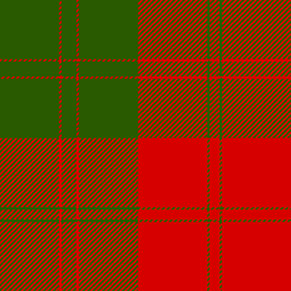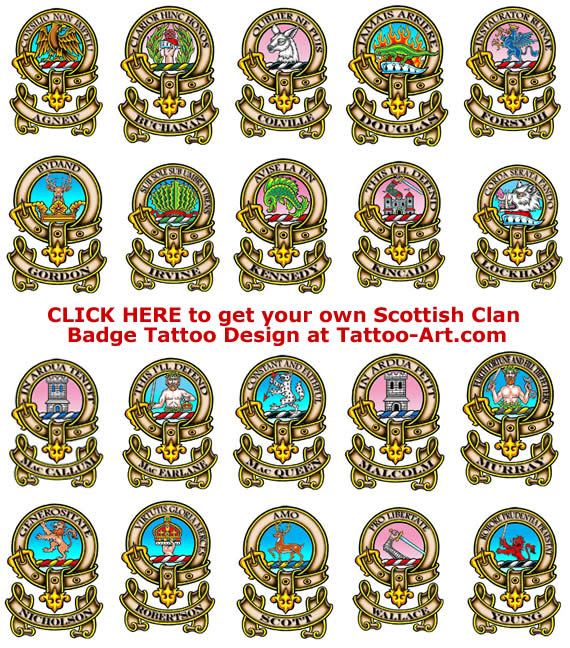 Scottish Tattoo Designs >> Erskine

Tattoo Symbol Index - A B C D E F G H I J K L M N O P Q R S T U V W X Y Z