SCOTTISH CLAN TATTOO DESIGNS & SYMBOLS - ELIOTT
Tattoo Symbol Index - A B C D E F G H I J K L M N O P Q R S T U V W X Y Z

Scottish Tattoo Designs >> Eliott
Eliott Clan Tattoos - Outside the small circle of the nobility and great families, few individuals or their kin are well recorded in Scottish medieval history, but the obscurity surrounding the origins of the Eliotts, who suddenly make their appearance as a distinct clan with a chief in the late 15th century is unusual even by the sparse standards of such records. This lack of information can probably be traced to the destruction of the old castle at Stobs in a fire in 1712, when the family document, with a single exception, were burnt.
According to family tradition, the Ellots (as the name was then spelt) came from Angus at the foot of Glenshie, and moved to Teviotdale at the time of Robert the Bruce. It is true that to move from the north to the Borders, as suggested by the Eliott tradition, would be considered as exceptional. However in 1320 there occurred in Liddesdale an event of some note which might lend credence to the tale. In that year , William de Soulis, one of the most powerful nobles in Scotland, whose family had for nearly two hundred year held the Lordship of Liddesdale, was convicted of treason against Robert the Bruce and imprisoned for life. All his lands were forfeit. Two years later Liddesdale, together with the great fortress of Hermitage Castle, was made over to Bruce's illegitimate son, Robert.
On the occasion of so sudden and dramatic a change in the lordship, it would scarcely be remarkable for Bruce to ensure his hold on the strategically important frontier region by encouraging the settlement of a loyal and tested clan, such as the Ellots, in the district.

It is known from a Berkshire pedigree that Ellot of Redheugh was living in the early 1400's. John Elwalde from Teviotdale is recorded in 1426. Robert Ellot of Redheugh appears as the 10th chief in 1476, and from that time the formal history of the clan can be said to have begun.
Clan Eliott Motto: Fortiter Et Recte ~ From Latin: Boldly and Rightly
See also: Claddagh, Thistle Tattoos, Scottish Lion Tattoo Designs, Welsh Dragon Tattoos, Scottish Tattoo Designs, Celtic Tattoo Designs, Family Crests, Sword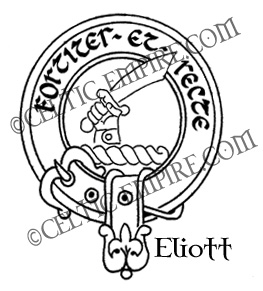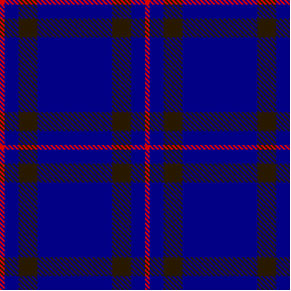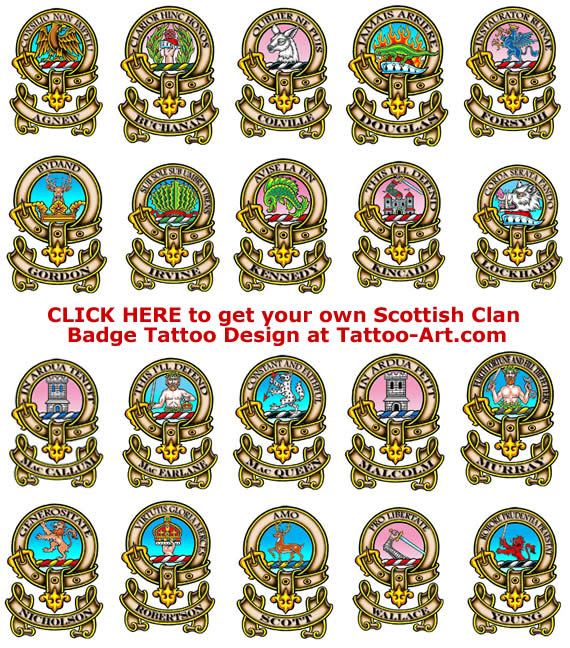 Scottish Tattoo Designs >> Eliott

Tattoo Symbol Index - A B C D E F G H I J K L M N O P Q R S T U V W X Y Z