SCOTTISH CLAN TATTOO DESIGNS & SYMBOLS - DUNBAR
Tattoo Symbol Index - A B C D E F G H I J K L M N O P Q R S T U V W X Y Z

Scottish Tattoo Designs >> Dunbar
Dunbar Clan Tattoos - The town and port of Dunbar has figured prominently at various points in Scottish history and the family whose name it bears is of ancient Celtic origin.
Gospatrick, Earl of Northumberland, received the lands of Dunbar and other parts of Lothian from Malcolm III. His son witnessed the foundation of the great Abbey of Holyrood Hose in 1128, and was accorded the rank of earl.
He made donations to the Abbey of Kelso and is recorded in various charters. Patrick of Dunbar marries Ada, natural daughter of William the Lion, around 1184 and was created justiciar of Lothian. Earl Patrick's daughter received as part of her dowry the lands of Home, establishing the line that was later to be created Earls of Home in the 17th century. Her brother Patrick went to the crusades, and died in 1248 at the siege of Damietta in Egypt. Patrick 'Black Beard', Earl of Dunbar was one of the competitors for the Crown of Scotland at Berwick in 1291 through his royal great-grandmother, Ada. His wife was a Comyn and held Dunbar Castle for Balliol, but was forced to surrender it in April 1296.
The 10th Earl, another Patrick, sheltered Edward II of England at Dunbar after his flight from the field of Bannockburn in 1314. Historians have suggested that if the king had been seized by Dunbar he might have been forced to make peace with Robert the Bruce, thereby preventing further years of bloodshed.

Despite his apparent treachery, the earl made peace with his cousin the king, and was present at the Parliament at Ayr in 1315 which settled the succession of the Scottish throne.
He was appointed governor of Berwick, where he was besieged by Edward III. He surrendered to the English and the town was refortified and garrisoned by English troops. Dunbar renounced his allegiance to the English king, as result of which his castle was besieged by the Earl of Salisbury. Command of the castle fell to Dunbar's wife, commonly called 'Black Agnes', who performed her task with vigour.
Clan Dunbar Motto: In Promptu ~ From Latin: In readiness
See also: Claddagh, Thistle Tattoos, Scottish Lion Tattoo Designs, Welsh Dragon Tattoos, Scottish Tattoo Designs, Celtic Tattoo Designs, Family Crests, Horse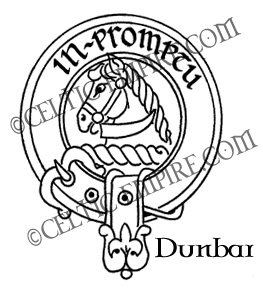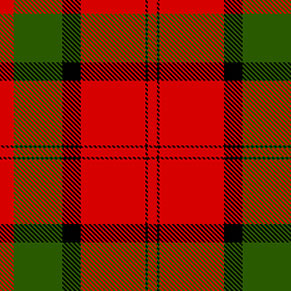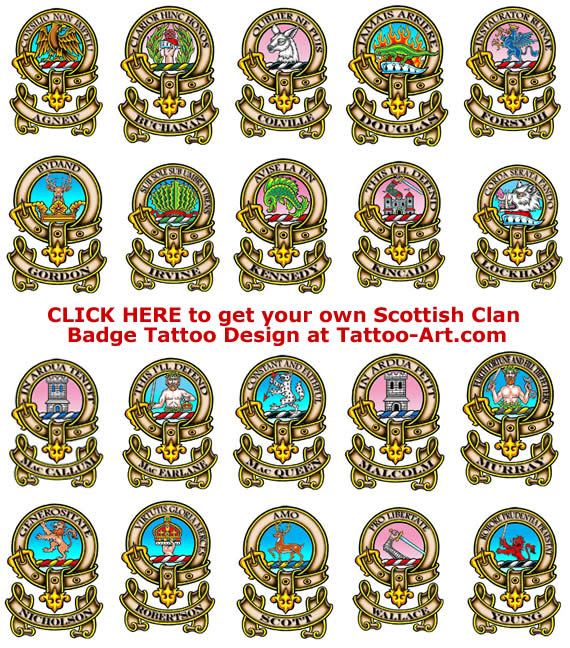 Scottish Tattoo Designs >> Dunbar

Tattoo Symbol Index - A B C D E F G H I J K L M N O P Q R S T U V W X Y Z