SCOTTISH CLAN TATTOO DESIGNS & SYMBOLS - DRUMMOND
Tattoo Symbol Index - A B C D E F G H I J K L M N O P Q R S T U V W X Y Z

Scottish Tattoo Designs >> Drummond
Drummond Clan Tattoos - One of the families residing on the edge of the Highlands, the Drummonds have always played a prominent part in Scottish affairs. The parish of Drymen lies to the west of Stirling and appears to have derived its name from the Gaelic, 'dromainn', meaning 'ridge' or 'high ground'. The traditional legends narrates that the 1st nobleman to settle Drymen was Hungarian, having accompanied Edgar the Aethling and his two sisters to Scotland in 1067 on their flight from William the Conqueror. The royal fugitives were warmly received by Malcolm III, who married one of the royal sisters, Margaret, later to be made a saint. The first chief appearing in written records was Malcolm Beg, Chamberlain of Lennox, who married Ada, the daughter of the Earl of Lennox, and who died some time prior to 1260.
| | |
| --- | --- |
| | Malcom de Drummond also swore fealty to Edward at this time. Despite this, the Drummonds firmly supported the cause of Bruce and Scottish Independence, and after the Battle of Bannockburn the king bestowed upon them lands in Perthshire. It is supposed that the four-spiked pieces of iron called 'caltrops', which form part of the heraldic emblems of the Drummonds, allude to Sir Malcolm's promotion of the use of these weapons, which are highly destructive of the English cavalry. |
In 1357, Annabella Drummond married, John, High Steward of Scotland, later Robert III, and she exercised considerable influence over her husband. Sir John Drummond rose to great power during the reign of James III and IV. He4 was created a peer with title 'Lord Drummond' in 1488, a title born today b y the present chief. In one famous incident he was confined in Blackness Castle for having struck the Lord Lyon, King of Arms. For allegedly slighting his grandson, the Red Earl of Angus, and was released only a year later.
Clan Drummond Motto: Gang Warily ~ From Gaelic: Go carefully
See also: Claddagh, Thistle Tattoos, Scottish Lion Tattoo Designs, Welsh Dragon Tattoos, Scottish Tattoo Designs, Celtic Tattoo Designs, Family Crests, Eagle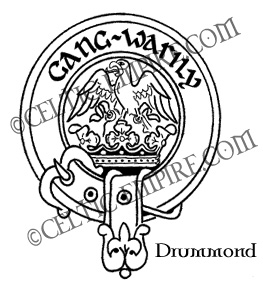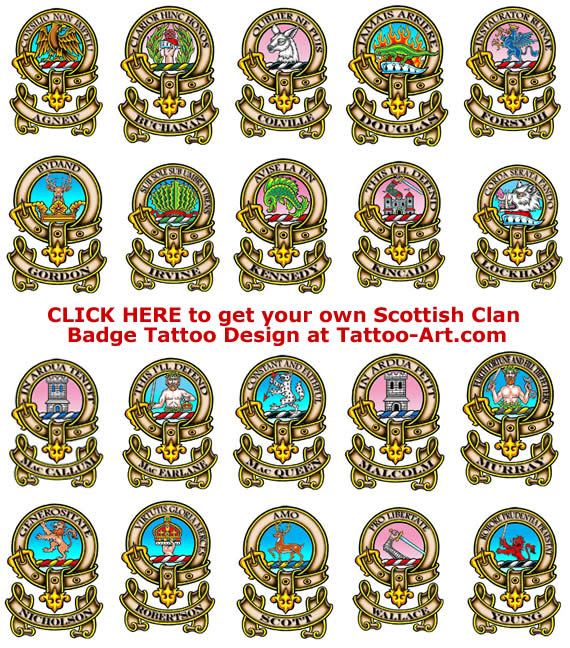 Scottish Tattoo Designs >> Drummond

Tattoo Symbol Index - A B C D E F G H I J K L M N O P Q R S T U V W X Y Z