SCOTTISH CLAN TATTOO DESIGNS & SYMBOLS - CRAWFORD
Tattoo Symbol Index - A B C D E F G H I J K L M N O P Q R S T U V W X Y Z

Scottish Tattoo Designs >> Crawford
Crawford Clan Tattoos - The family of Crawford is believed to be of Norman origins, taking their name from the barony of the same name in Lanarkshire. The early names of the principal families are all Norman, although some scholars have asserted an Anglo-Danish ancestry. According to tradition, Reginald, son of the powerful Earl of Richmond, was one of the Norman knights established by David I.
The Crawfords feature in the legendary incident which led to the foundation of the Abbey of Holyrood when the king's life was saved from a stag in 1127: Sir Gregan Crawford, together with divine intervention, was instrumental in saving his royal master's life. In 1296, Sir Reginald Crawford was appointed sheriff of Ayr. His sister Margaret, married Wallace of Elderslie, and was the mother of Sir Wiilliam Wallace, the great Scottish patriot.
The Crawfords rallied to their cousin in his struggle against English domination. The family of the sheriff of Ayr also produced the main branches of this family, who were styled 'of Auchinames' and ' of Craufurdland'.
The chiefly family is generally reckoned to be that of Auchinames in Renfrewshire, who received a grant of their lands from Robert the Bruce in 1320.
| | |
| --- | --- |
| | Sir William Crawfurd of Crawfurdland was one of the bravest men of his time and was knighted by James I. He fought with the Scots forces in the service of King Charles VII of France and was wounded at the siege of Creyult in Burgundy in 1423. John of Crawfurdland followed James IV to the sorry fields of Flodden where, in company with much of the flower of Scottish chivalry he died. |
The lairds of Auchinames, too, fell at Flodden and a generation later, at Pinkie in 1547. Sit Thomas Craufurd of Jordanhill also fought at the Battle of Pinkie, but was luckier than his cousin, being captured and later ransomed. He became a member of Lord Darnley's household when he married Mary, Queen of Scots.
Clan Crawford Motto: Tutum Te Robore Reddam
From Latin: I will make you safe with strength
See also: Claddagh, Thistle Tattoos, Scottish Lion Tattoo Designs, Welsh Dragon Tattoos, Scottish Tattoo Designs, Celtic Tattoo Designs, Family Crests, Deer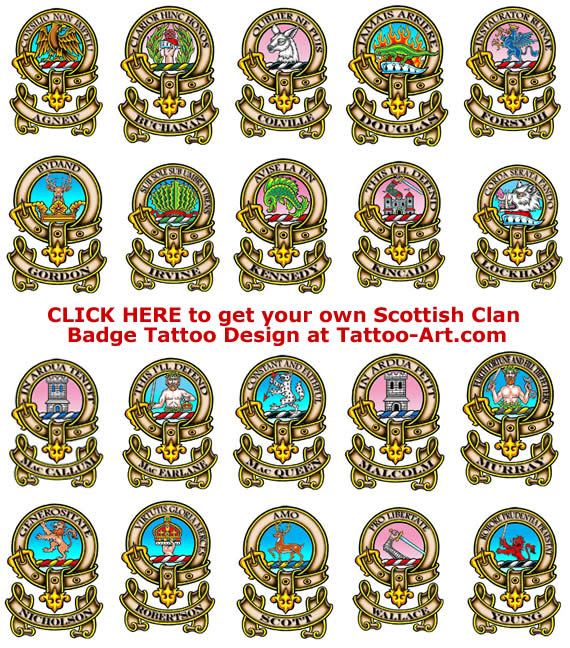 Scottish Tattoo Designs >> Crawford

Tattoo Symbol Index - A B C D E F G H I J K L M N O P Q R S T U V W X Y Z