SCOTTISH CLAN TATTOO DESIGNS & SYMBOLS - Chattan
Tattoo Symbol Index - A B C D E F G H I J K L M N O P Q R S T U V W X Y Z

Scottish Tattoo Designs >> Chattan
Chattan Clan Tattoos - There are many theories on the origin of this unique group of families which did not follow the ordinary pattern of other Scottish clans, but rather became a community or confederation, consisting of various descendants of the original ancestors. They were distinguished by the wildcat which figures prominently in their heraldry. One theory states they came from the Catti, a tribe of Gauls driven out by the Romans; another says they took their name from Catav in Sutherland. The most widely accepted, however, says they descended from Gillichattan Mor, the great servant of St. Cattan. Gillichattan was probably the coarb, or baillie, of the abbey lands of Ardchattan.
Around the time of Malcolm II they became possessed of lands at Glenloy and Loch Arkaig, where Torcastle became the chief's seat. Little is certain until the clan became established around Lochaber at the close of the 13th century.
| | |
| --- | --- |
| | In 1291, Eva, daughter of Gilpatric, or DougalDal, of clan Chattan in Lochaber, married Angus Mackintosh, 6th of Mackintosh. After his marriage to Eva, Angus lived for some time at Torcastle in Glenloy, but due to the enmity of Angus Og of Islay he withdrew to Rothiemurchus. The Camerons, claiming that the lands around Arkaig had been abandoned, occupied them by right of conquest. Therafter a long and bitter feud was fought between the Camerons and the Clan Chattan which lasted until 1666. |
In 1370, 400 Camerons made a raid into Badenoch but while returning home with their spoils they were met at Invernahavon by a strong force of Mackintoshes supported by MacPhersons & Davidsons. The Camerons were defeated, but the battle was the origin of the feuding between the MacPhersons and the Davidsons.
Clan Chattan Motto: Touch not the cat but a glove
See also: Claddagh, Thistle Tattoos, Scottish Lion Tattoo Designs, Welsh Dragon Tattoos, Scottish Tattoo Designs, Celtic Tattoo Designs, Family Crests, Lion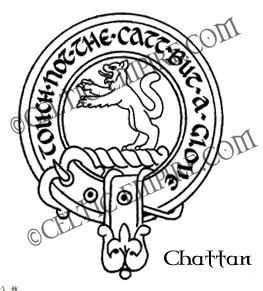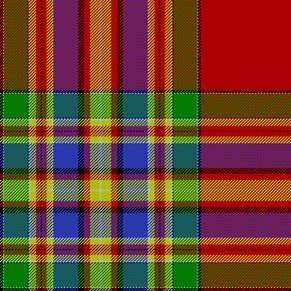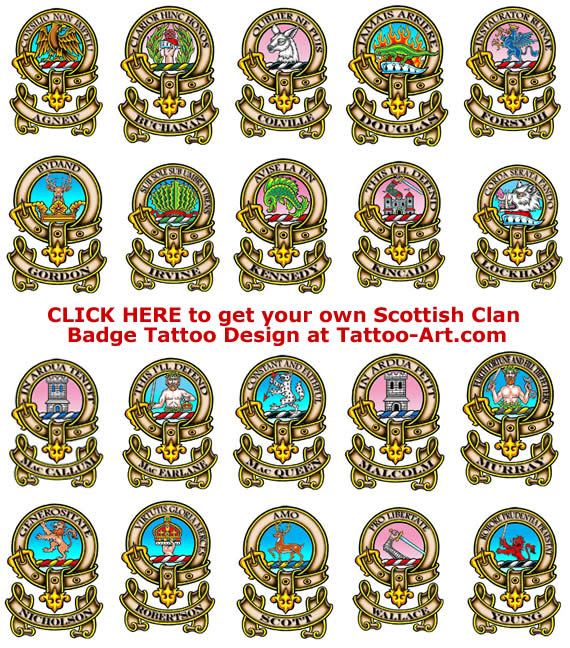 Scottish Tattoo Designs >> Chattan

Tattoo Symbol Index - A B C D E F G H I J K L M N O P Q R S T U V W X Y Z