SCOTTISH CLAN TATTOO DESIGNS & SYMBOLS - BURNETT
Tattoo Symbol Index - A B C D E F G H I J K L M N O P Q R S T U V W X Y Z

Scottish Tattoo Designs >> Burnett
Burnett Clan Tattoos - This ancient family claims Norman descent, but it is possible that the name is also connected with the great Saxon family of Burnard who held estates in England before the Norman Conquest.
The Saxon 'beornheard' means 'bear hand' but is more romantically translated as "brave warrior'. The family, now calling themselves de Bernard, apparently first came to Scotland on the return of David I from England, and they appear to have settled in Roxburghshire.
Alexander Burnett was a faithful adherent of Robert the Bruce, and on the defeat of the English he was rewarded by a grant of land in the royal Forest of Drum, together with the title of forester.

In the main hall of the ancient seat of the Burnetts' Crathes Castle, pride of place is still given to an ancient and splendid ivory horn said to have been presented by Bruce as a symbol of the barony and title bestowed upon Burnett.
Nisbet states that the Burnetts were great benefactors of the Church, and they appear granting lands and other endowments throughout the fifteenth century. However, the relationship with the Church was not always cordial. A dispute arose between Burnett and his neighbour, the Laird of Drum, over some land, and the priest, one Father Ambrose, was asked by Burnett to intercede, but declined to do so.
In his rage, Burnett stopped the monks from fishing in the Loch of Leys, and when he was rebuked and cursed by them, he planned to drain the loch. However, his son was killed attempting to clear a large rock, and Burnett abandoned the project and was ultimately reconciled with the Church. The death of the chiefs son was not to be the only tragedy: according to legend, the ghost of a cousin of the family once haunted the Crathes Castle, seeking her lost love.
Clan Burnett Motto: Virescit Vulnere Virtus
From Latin: Courage flourishes at a wound
See also: Claddagh, Thistle Tattooss, Scottish Lion Tattoo Designs, Welsh Dragon Tattoos, Scottish Tattoo Designs, Celtic Tattoo Designs, Family Crests, Grapes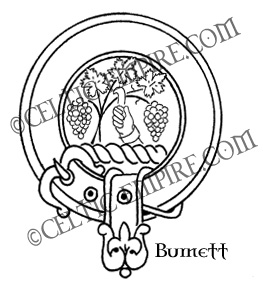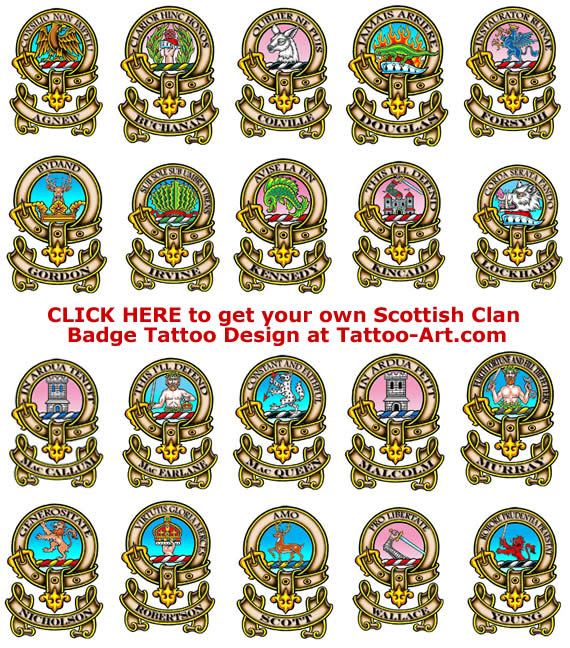 Scottish Tattoo Designss >> Burnett

Tattoo Symbol Index - A B C D E F G H I J K L M N O P Q R S T U V W X Y Z