SCOTTISH CLAN TATTOO DESIGNS & SYMBOLS - BUCHANAN
Tattoo Symbol Index - A B C D E F G H I J K L M N O P Q R S T U V W X Y Z

Scottish Tattoo Designs >> Buchanan
Buchanan Clan Tattoos - The earliest family of this name hailed from the shores of Loch Lomond, which were granted by the Earls of Lennox to one Absalon around 1225. 'Buth chanain' is Gaelic for 'house of the canon', and Absalon may have been a clergyman or from one of those families dedicated to the service of the ancient Celtic Church. In 1282 Morris of Buchanan received a charter confirming him in his lands with baronial rights. He also held the small island of Clarinch, the name of which was afterwards to become the battle cry of the clan. The Buchanans supported the cause of the Bruce during the War of Independence and thus the fortunes of the family were assured.
Sir Alexander Buchanan traveled with other Scottish nobles to fight for French against Henry V of England, and fought at the Battle of Beauge in Normandy in March 1421.
Buchanan's exploits during this battle are given as one explanation for the heraldry of this family: it is said that Sir Alexander killed the Duke of Clarence and bore of his coronet as a trophy, hence the ducal cap held aloft in the crest.
| | |
| --- | --- |
| | Black lists Ricardus de Buchan as clerk to the bishopric of Aberdeen around 1207. William de Buchan held land in Aberdeen before 1281. Sir Thomas de Boghan appears on the Ragman Roll rendering homage to Edward I of England in 1296. His lands were around Edinburgh, and his seal bears an eight rayed figure which may be the derivation of the shining sun which forms part of the chiefs crest. |
The shield , which is virtually the Royal Arms of Scotland, differenced only by changing the lion and the double treasure of the fleur de lis from red to black. This is said to allude to the marriage of Sir Walter Buchanan to the only daughter of Murdoch, Duke of Albany and Regent of Scotland.
The regent was ultimately beheaded by his cousin, James I, in 1425, when his vast estates were confiscated. Albany's son died childless and the Buchanans were the nearest relatives to this disinherited branch of the royal family. The arms are said to mourn the family's loss of status.
Clan Buchanan Motto: Clarior Hinc Honos
From Latin: Brighter hence the honour
See also: Claddagh, Thistle Tattoos, Scottish Lion Tattoo Designs, Welsh Dragon Tattoos, Scottish Tattoo Designs, Celtic Tattoo Designs, Family Crests, Leaves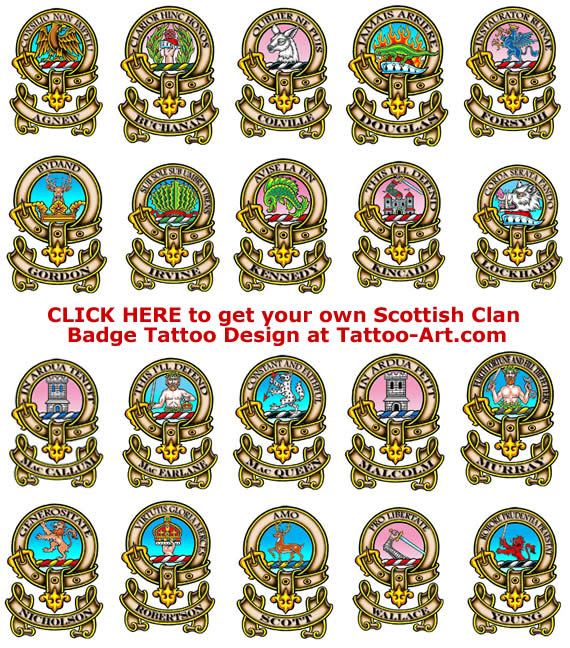 Scottish Tattoo Designs >> Buchanan

Tattoo Symbol Index - A B C D E F G H I J K L M N O P Q R S T U V W X Y Z