SCOTTISH CLAN TATTOO DESIGNS & SYMBOLS - BRUCE
Tattoo Symbol Index - A B C D E F G H I J K L M N O P Q R S T U V W X Y Z

Scottish Tattoo Designs >> Bruce
Bruce Clan Tattoos - This name, now inextricably linked with the history of the Scottish nation through its association with the victor of Bannockburn, was ancient long before that momentous battle. It is believed that Adam de Brus built the castle at Brix between Cherbourg and Valognes in Normandy in the 11th century, the ruins of which still remain. Robert de Brus followed William the Conqueror, Duke of Normandy, to England in 1066, and although he is thought to have died soon after, his sons acquired great possessions in Surrey and Dorset.
Another Robert de Brus became companion-in-arms to Prince David, afterwards David I of Scotland, and followed him when he went north to regain his kingdom in 1124. His loyalties were torn in 1138 when, during the civil war in England between Stephen and Matilda, who claimed to be the rightful heiress, David led a force into England.
De Brus could not support his king, and resigned his holdings in Annandale to his second son, Robert, to join the English forces gathering to resist the Scottish invasion.
| | |
| --- | --- |
| | At the battle of the Standard in 1138, Scottish forces were defeated and de Brus took prisoner his own son, now lord of the lands of Annandale. He was ultimately returned to Scotland, and to demonstrate his determination to establish his branch of the family in Scotland, he abandoned his father's arms of the red lion on a silver field and assumed the now familiar red saltire. |
The arms of the present chief allude to both elements. William the Lion confirmed to the son the grant of lands of Annandale made to his father by David I.
Robert the 4th Lord of Annandale, laid the foundation of the royal house of Bruce when he married Isobel, niece of William the Lion. She brought extensive estates, both in Scotland & England. Princess Isobel's son, another Robert, known as the competitor' was at that time named heir to the Scottish crown.
Clan Bruce Motto: Fuimus ~ From Latin: We have been
See also: Claddagh, Thistle Tattoos, Scottish Lion Tattoo Designs, Welsh Dragon Tattoos, Scottish Tattoo Designs, Celtic Tattoo Designs, Family Crests, Lion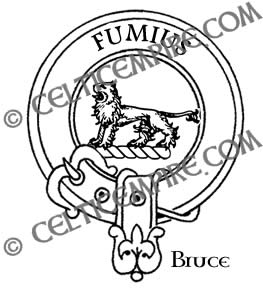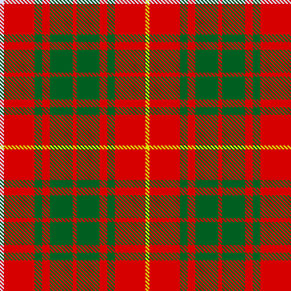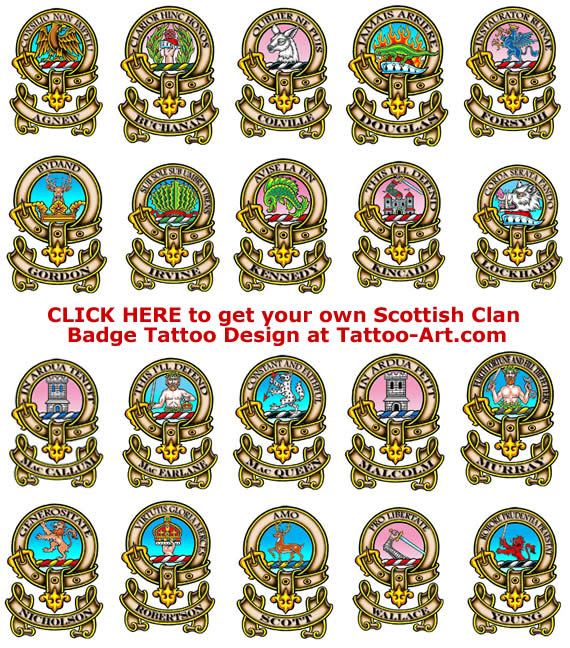 Scottish Tattoo Designs >> Bruce

Tattoo Symbol Index - A B C D E F G H I J K L M N O P Q R S T U V W X Y Z